Triptych Mandala MAL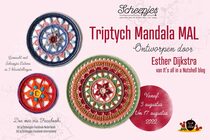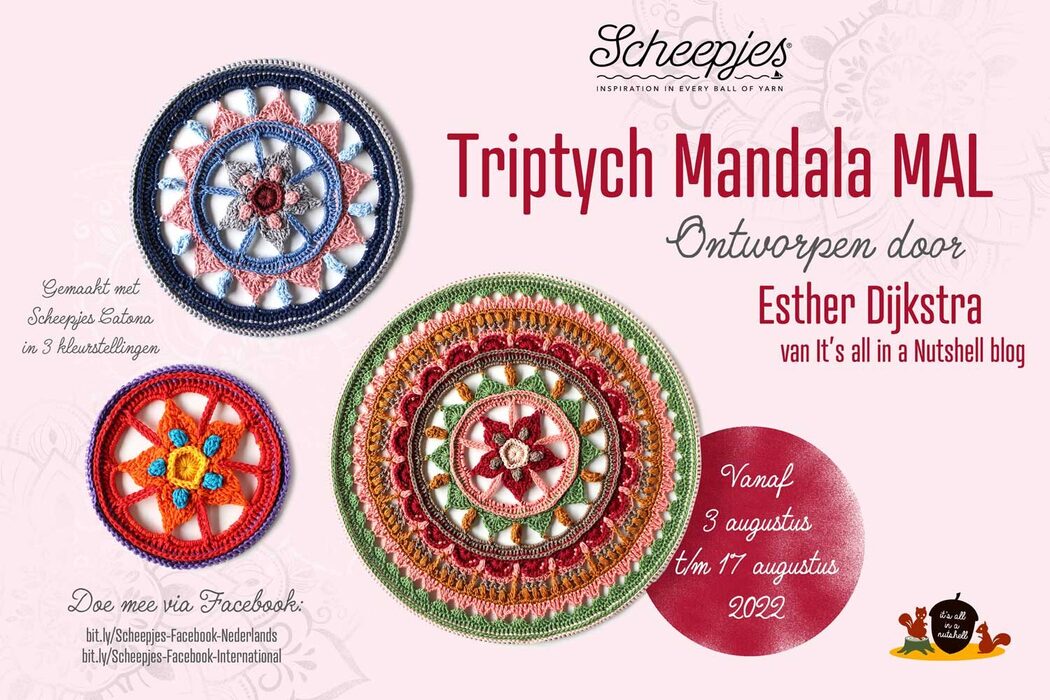 Scheepjes welcomes summertime with a mindful mandala make-a-long, where participants can practise several fun crochet stitches while playing with any combination of the 113 Scheepjes Catona colour options that tickle their fancy!
Meaning 'presented in three parts', the word 'Triptych' has inspired the upcoming Scheepjes Make-A-Long, which will showcase a vibrant set of three mandalas in three unique colourways, designed by Scheepjes Blogger Esther Dijkstra. The aim of the collaboration is to excite adventurous beginners as much as the more advanced crafters in our community.
This MAL is built around the pure enjoyment of working several crochet techniques using eye-catching combinations of Scheepjes Catona yarn. It will teach newcomers a wide range of classic stitches, as well as expressive techniques that add texture. The three hooped mandala designs (small, medium and large) are based on the same pattern, with each larger size expanding on that of the previous
Pattern
The FREE pattern will be released in three separate weekly parts during the MAL via Esther's blog. Participants wishing to show their appreciation for the designer may choose to purchase the full PDF pattern via Ravelry (approx. £2.50/€3/USD 3.20*) in English (UK + US terminology) and Dutch. *Prices are subject to variation based on local currency and tax(es).
Esther has prepared supporting blogposts, written in both English and Dutch and will include advice for participants who prefer to customise their own colour palette. Links to step-by-step video tutorials for both left- and right-handers will also be shared via the designer's blog.
Materials
Scheepjes Catona (100% Mercerised Cotton; 50g/125m)
3mm Crochet Hook (or size needed to obtain gauge)
Tapestry Needle
Mandala Rings:
15cm for small mandala (item no. 79890)
25cm for medium mandala (item no 96348-NI)
40cm for large mandala (item no 79891)
There are three suggested colourways. One ball of each shade is required to complete set of 3 mandalas.

Colourway No.1: Forest Fern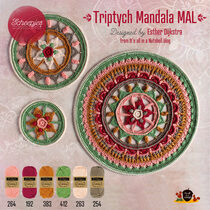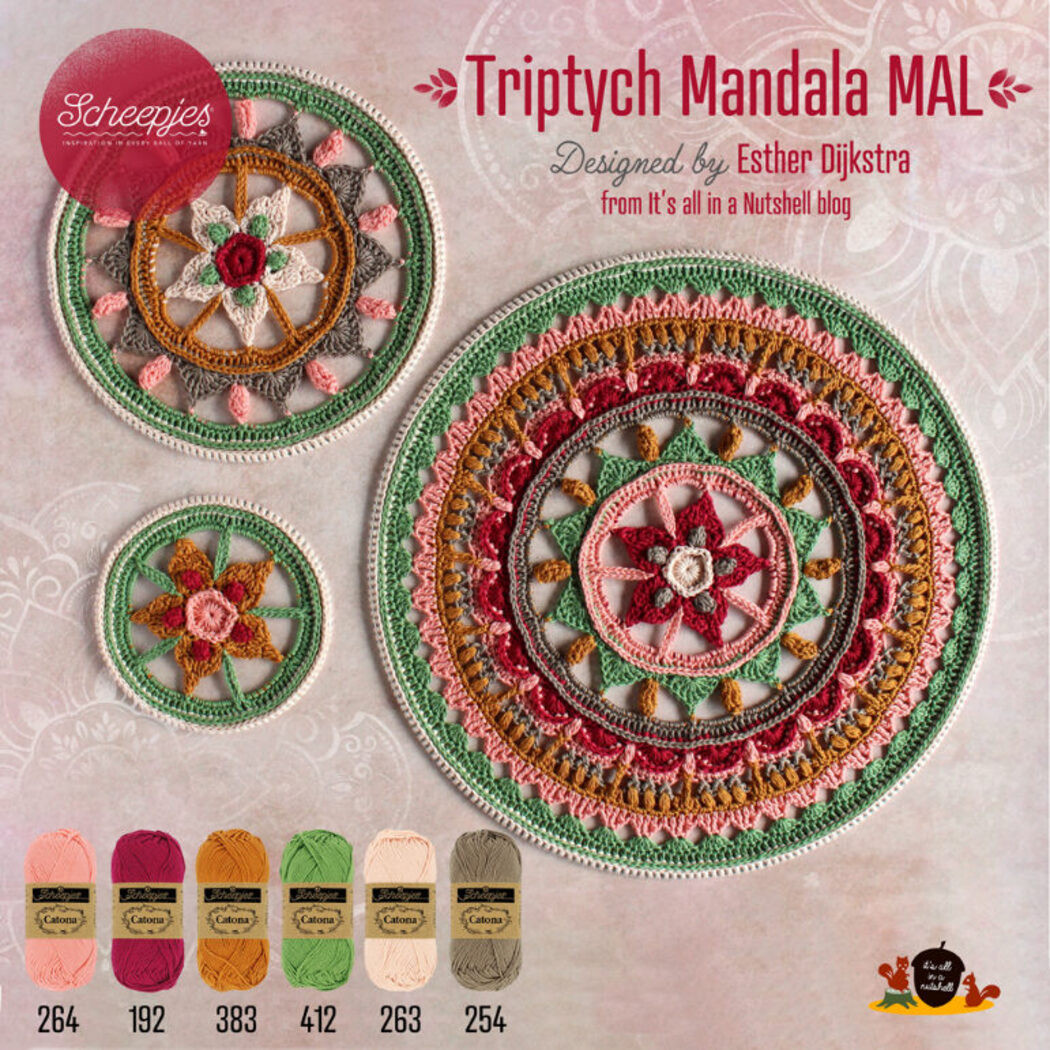 Yarn A: 264 Light Coral
Yarn B: 192 Scarlet
Yarn C: 383 Ginger Gold
Yarn D: 412 Forest Green
Yarn E: 263 Petal Peach
Yarn F: 254 Moon Rock
Colourway No.2: Rainbow Bright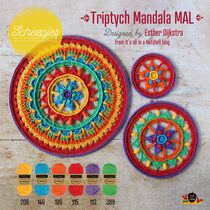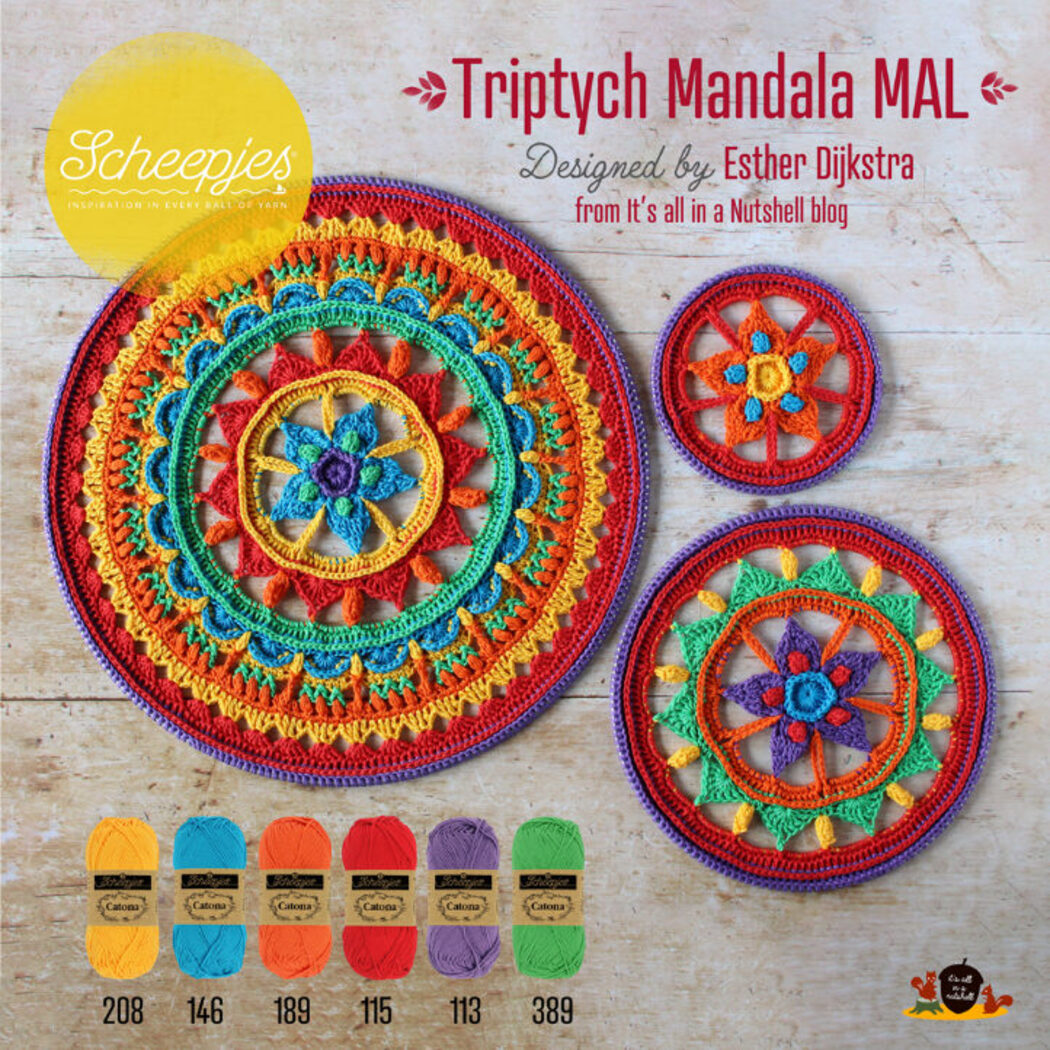 Yarn A: 208 Yellow Gold
Yarn B: 146 Vivid Blue
Yarn C: 189 Royal Orange
Yarn D: 115 Hot Red
Yarn E: 113 Delphinium
Yarn F: 389 Apple Green
Colourway No.3: Blue Moon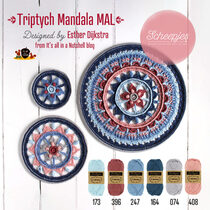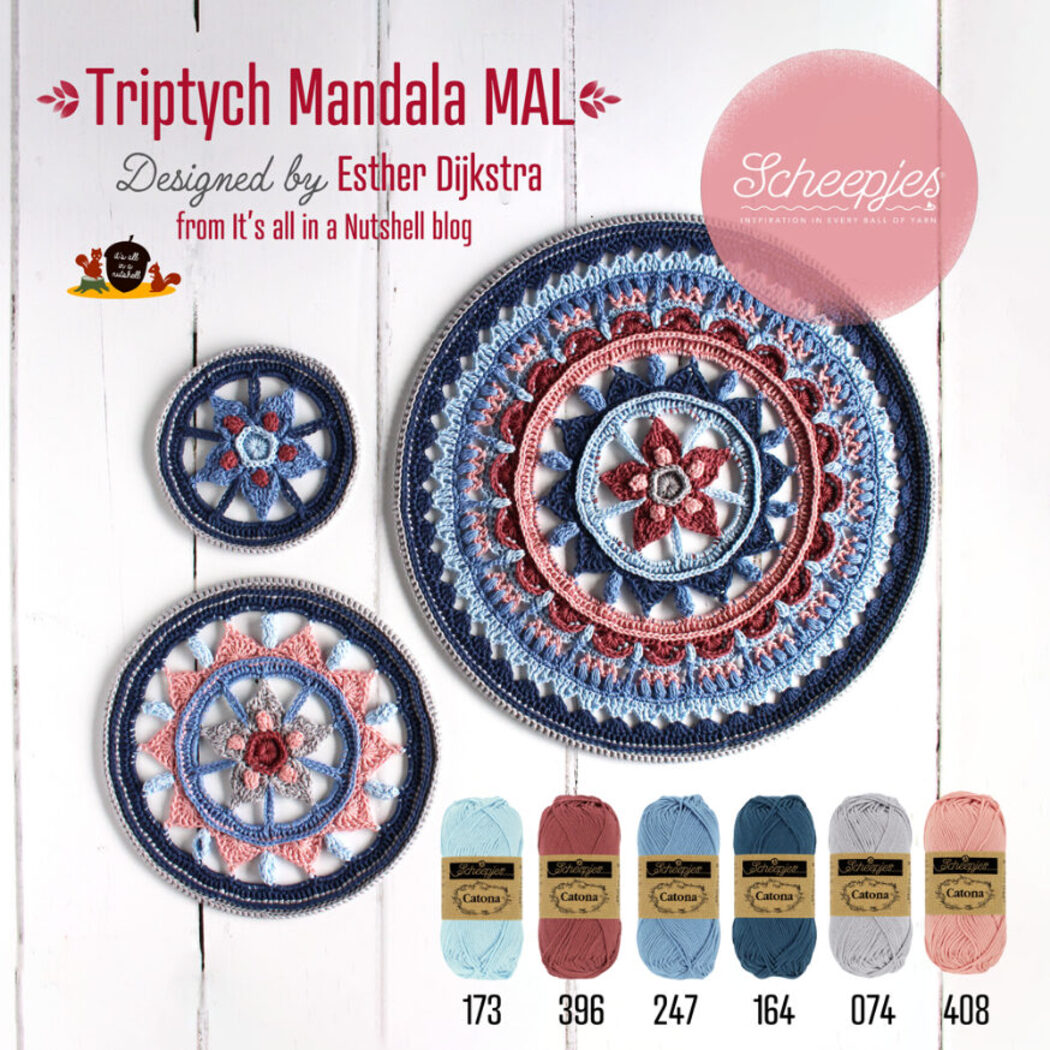 Colourway No.3: Blue Moon
Yarn A: 173 Bluebell
Yarn B: 396 Rose Wine
Yarn C: 247 Bluebird
Yarn D: 164 Light Navy
Yarn E: 074 Mercury
Yarn F: 408 Old Rose
Timeline
Each MAL week starts on a Wednesday, when the MAL designer publishesa blogpost (described below) to their personal blog at 12pm CEST.
| | | |
| --- | --- | --- |
| MAL Week 1 | 3 August 2022 | Part 1 of FREE pattern for small mandala. video tutorial |
| MAL Week 2 | 10 August 2022 | Part 2 of FREE pattern for medium mandala. video tutorial |
| MAL Week 3 | 17 August 2022 | Part 3 of FREE pattern for large mandala. video tutorial |
About the designer
Esther Dijkstra is a Dutch designer who is passionate about crochet and generous in sharing her extensive knowledge of the craft. She is known for her brilliant step-by-step tutorials that have hooked a wealth of international followers. The Triptych Mandala MAL is the sequel to her popular Trinity Mandala MAL that ran in 2019. Esther has experience encouraging thousands of crafters, as the creator of well-loved designs such as the Nuts About Squares CAL and the C2C Temperature Blanket MAL.