Submenu
Scheepjes CKALs

Scheepjes Dawn Chorus CKAL

Scheepjes CALs

Scheepjes Colour Lab CAL

Scheepjes CAL 2020 - d'Histoire Naturelle

Scheepjes CAL 2019 - Rozeta

Scheepjes CAL 2018 - Ubuntu

Scheepjes CAL 2017 - Hygge

Scheepjes CAL 2016 - Last Dance on the Beach

Scheepjes CAL 2015 - Flight of Fancy

Scheepjes CAL 2014

Scheepjes Make-A-Long

Christmas Tangle Blanket MAL

Scheepjes KALs

CALs and MALs sponsored by Scheepjes

Around the Bases CAL 2015

Sophie's Universe CAL 2015

I want that Bag CAL 2015

Projects & Kits
Zodiac Calendar Kit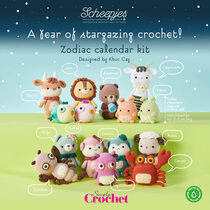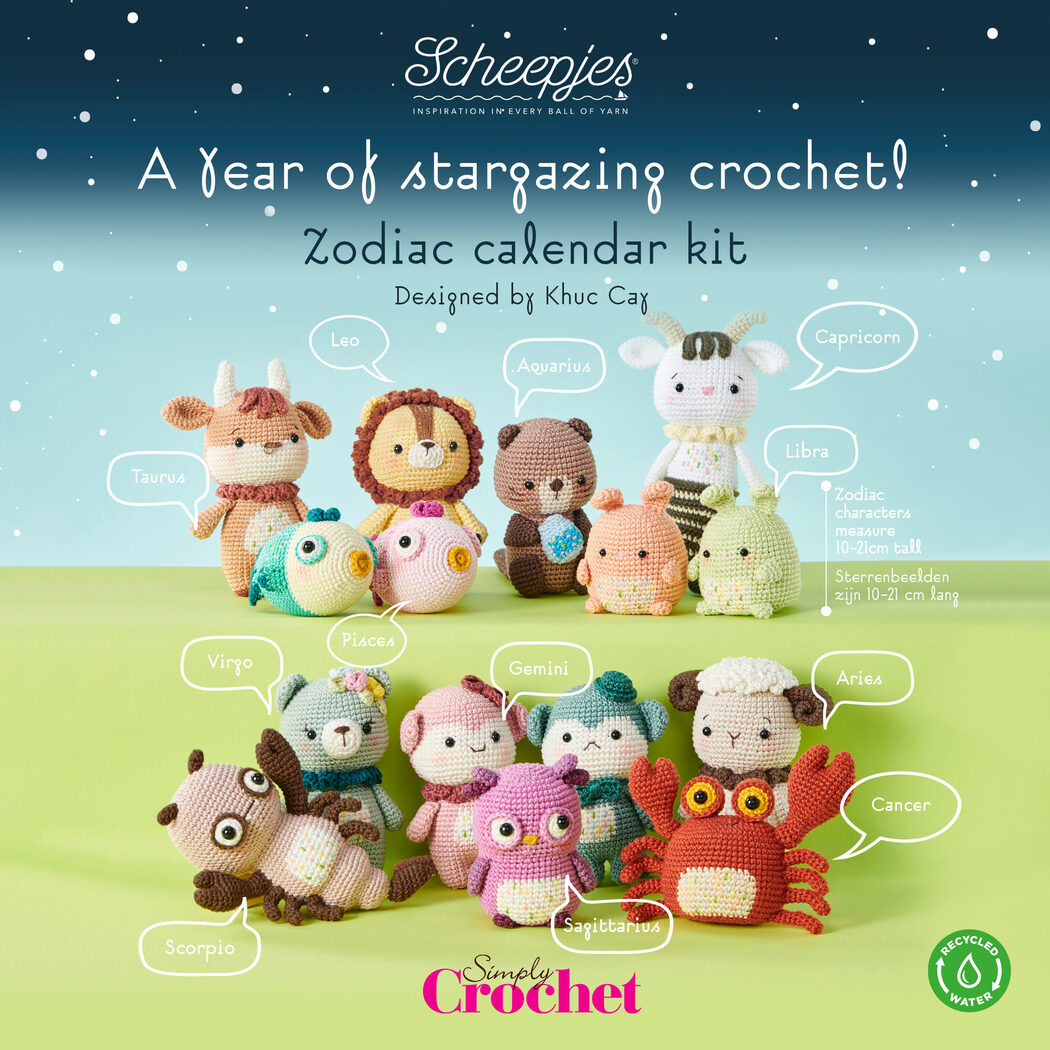 In collaboration with Simply Crochet Magazine and designer Khuc Cay, Scheepjes are proud to launch their exclusive Zodiac Calendar Kits containing a specially designed 2021 calendar featuring 12 adorable amigurumi patterns inside which represent each of the 12 Zodiac signs, plus all the required yarns and small notions to make them!*
The Zodiac characters are designed using Scheepjes Catona yarns with details made in Scheepjes Maxi Sweet Treat; both collections are made from 100% Mercerised Cotton and feature a beautiful yet subtle sheen and super soft feel. They are EN71-3 certified safe for use for babies and childrens' items and garments, and have been produced using recycled water, making them a perfect choice for eco conscious crafters and those with a more sensitive touch.
This fantastic kit can be enjoyed all year long, keeping hands and hooks busy with playful, beginner-friendly projects that can be kept, collected, or made for friends, family and loved ones! To make it extra special, Scheepjes will hold a giveaway each month throughout 2021 where crafters have a shot at winning one of these exclusive kits.
Kit Contents
23 x 50g balls of Scheepjes Catona
5 x 25g balls of Scheepjes Catona
12 x 10g balls of Scheepjes Catona
1 x 25g ball of Scheepjes Maxi Sweet Treat
1 metal ring
30 safety eyes
2021 Zodiac Calendar with 12 patterns in English (UK) only
Please note: Stuffing is not included.