Submenu
Scheepjes CKALs

Scheepjes Dawn Chorus CKAL

Scheepjes CALs

Scheepjes Colour Lab CAL

Scheepjes CAL 2020 - d'Histoire Naturelle

Scheepjes CAL 2019 - Rozeta

Scheepjes CAL 2018 - Ubuntu

Scheepjes CAL 2017 - Hygge

Scheepjes CAL 2016 - Last Dance on the Beach

Scheepjes CAL 2015 - Flight of Fancy

Scheepjes CAL 2014

Scheepjes Make-A-Long

Christmas Tangle Blanket MAL

Scheepjes KALs

CALs and MALs sponsored by Scheepjes

Around the Bases CAL 2015

Sophie's Universe CAL 2015

I want that Bag CAL 2015

Projects & Kits
Nutcracker Kit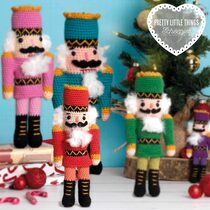 Grab a hook and get cracking with the decorations! To make seasonal crafting easier, we've packaged up the pattern, safety eyes and all the yarn needed to make four delightful Amigurumi Nutcrackers in one handy kit.
The Nutcracker is an iconic figure, symbolising protection and good luck. Designed by Kate McCully and originally featured in Pretty Little Things 29, this popular pattern is crocheted using simple stitches. Crafters will have tremendous fun adding character when stitching on the details such as the moustache and boot laces. The final part of the pattern describes how to add his hair and beard before smartening him up with a scissor trim!
Kit Contents
The Limited Edition kit includes materials to make four 20cm high figures; two wearing traditional red uniforms and two looking smart in green.
Scheepjes Catona (100% Mercerised Cotton; 50g/125m)
Yarn A 255 Shell x 1 ball
Yarn C (for Red Nutcracker) 390 Poppy Rose x 1 ball
Yarn C (for Green Nutcracker) 515 Emerald x 1 ball
Yarn D 110 Jet Black x 1 ball
Scheepjes Catona (100% Mercerised Cotton; 25g/62.5m)
Yarn B 249 Saffron x 1 ball
Yarn E (for Red Nutcracker) 410 Rich Coral x 1 ball
Yarn E (for Green Nutcracker) 512 Lime x 1 ball
Scheepjes Catona (100% Mercerised Cotton; 10g/25m)
105 Bridal White x 1 ball
Scheepjes Furry Tales (100% Polyester; 100g/57m)
Yarn F 970 Snow White x 1 ball
8 x safety eyes
Other materials (not included in kit)
2.5mm crochet hook
Stitch markers
Polyester stuffing