Submenu
Scheepjes CKALs

Scheepjes Dawn Chorus CKAL

Scheepjes CALs

Scheepjes Colour Lab CAL

Scheepjes CAL 2020 - d'Histoire Naturelle

Scheepjes CAL 2019 - Rozeta

Scheepjes CAL 2018 - Ubuntu

Scheepjes CAL 2017 - Hygge

Scheepjes CAL 2016 - Last Dance on the Beach

Scheepjes CAL 2015 - Flight of Fancy

Scheepjes CAL 2014

Scheepjes Make-A-Long

Christmas Tangle Blanket MAL

Scheepjes KALs

CALs and MALs sponsored by Scheepjes

Around the Bases CAL 2015

Sophie's Universe CAL 2015

I want that Bag CAL 2015

Projects & Kits
Trinity Mandala MAL
Esther from itsallinanutshell.com was challenged by Dedri and this challenge resulted in the Trinity Mandala MAL.
The free, written patterns are available in English US Terms, English UK Terms, Dutch, and Swedish. The free patterns will be available as separate pdf files, and will be released on the following dates:
Part 2 – Medium Mandala – 11 April 2019, 12.00 Dutch Time
Part 3 – Large Mandala – 18 April 2019, 12.00 Dutch Time
If you are charmed by these mandalas, and you just can't wait for the full pattern to be released bit by bit, you can make a quick start. You can buy the full, written pdf pattern which includes the links to the video tutorials, for a small fee from Esther's Ravelry page. The full pattern will be available on 4 April 2019.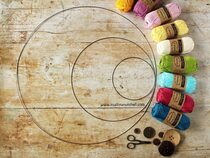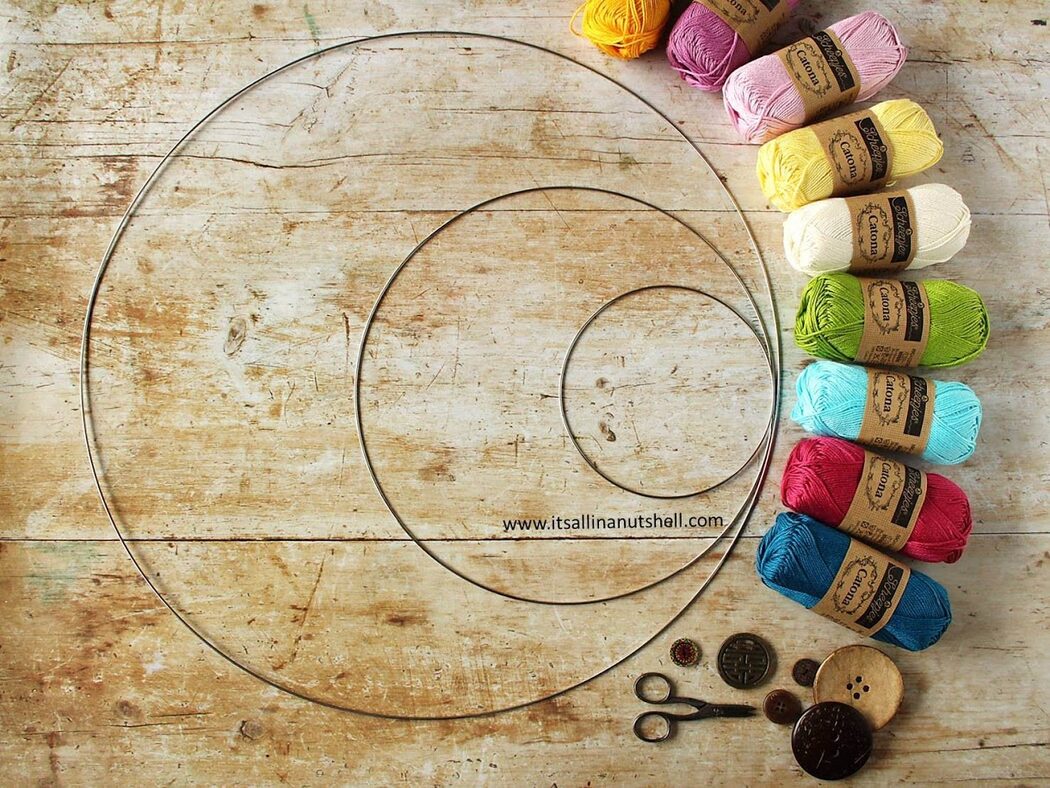 Support
There will be free video tutorials available to help you every step of the way. Esther will release these videos on her YouTube channel when she release the free patterns. The video's are only available in English US Terms.
The project will be hosted by Scheepjes in their English and Dutch Facebook groups. You can join these groups if you need any help, or want to share your work.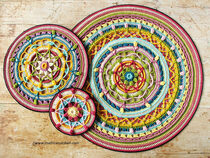 Materials
You will need 10 colors of Scheepjes Catona (50g/125m) yarn and 3 mandala rings to make the Trinity Mandals. Here are the colors I used:
1 x A – 130 Old Lace
1 x B – 403 Lemonade
1 x C – 208 Yellow Gold
1 x D – 205 Kiwi Green
1 x E – 246 Icy Pink
1 x F – 398 Colonial Rose
1 x G – 413 Cherry Pink
1 x H – 397 Cyan Blue
1 x I – 400 Petrol Blue
1 x J – 110 Jet Black
You will also need 3 rings to finish the mandalas. You will need rings with diameter 50cm (19″ or 20″), 30cm (12″) and 15cm (6″). We make the mandalas using a 3mm crochet hook.