Snaggletooth MAL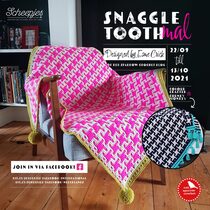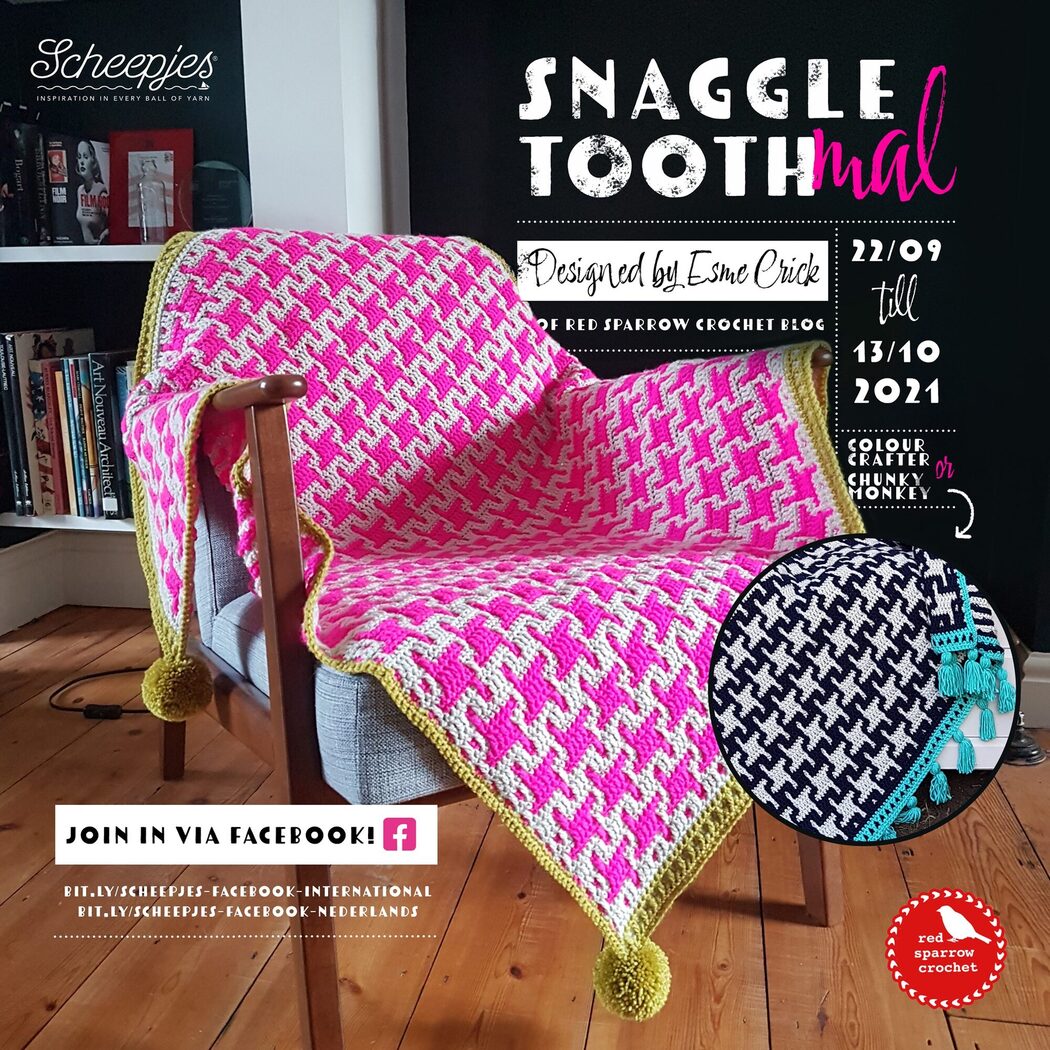 End 2021 with a burst of colour! The Snaggletooth MAL designed by Friend of Scheepjes Esme Crick of Red Sparrow Crochet is a dynamic fusion of bold colour contrasts, abstract broken checks and lively trims. This vibrant, modern blanket revives the traditional houndstooth textile design and is crocheted in a choice of either Scheepjes Colour Crafter or Scheepjes Chunky Monkey yarns. To encourage you to experiment and create your own unique colour scheme, printable colouring sheets are available to download!
About the Make-A-Long
The Snaggletooth MAL will be hosted in the Official Scheepjes Facebook Groups and run from 22nd September to 13th October 2021. The crochet pattern is suitable for adventurous beginners and is the perfect introduction to mosaic crochet. Esme has extensively prepared clear patterns and step-by-step blog tutorials for each stage and will be available for pattern assistance in the International and Dutch Facebook groups for the duration. In addition, skilled moderators and admins will be on hand during and after the MAL to offer advice, alongside of course, the supportive global Scheepjes community of almost 110,000 members!
Pattern Availability
As a special thanks from Esme to the Scheepjes community for all their support, for the duration of the MAL, September 22 until October 20, the Snaggletooth crochet pattern will be free to download via Ravelry with the code ScheepjesMAL. Anyone wishing to support the designer can show their appreciation by purchasing the paid pattern via Ravelry or Etsy. Usual pattern price via Ravelry is approx. £4 and Etsy approx. €5.90.
Choose Your Yarn
Scheepjes Colour Crafter (100% Premium Anti Pilling Acrylic; 100g/300m)
Yarn A: 2017 Verviers x 3 balls
Yarn B: 1257 Hilversum x 3 balls
Yarn C: 1712 Nijmegen x 1 ball
5.5mm crochet hook
65mm Pompom maker
Measurements: 90 x 110cm


Or Scheepjes Chunky Monkey (100% Premium Anti Pilling Acrylic; 100g/116m)
Yarn A: 1011 Slate x 9 balls
Yarn B: 2017 Stone x 8 balls
Yarn C: 1422 Aqua x 3 balls
6.5mm crochet hook
Measurements: 115 x 160cm