Submenu
Scheepjes CALs

Scheepjes Colour Lab CAL

Scheepjes CAL 2020 - d'Histoire Naturelle

Scheepjes CAL 2019 - Rozeta

Scheepjes CAL 2018 - Ubuntu

Scheepjes CAL 2017 - Hygge

Scheepjes CAL 2016 - Last Dance on the Beach

Scheepjes CAL 2015 - Flight of Fancy

Scheepjes CAL 2014

Scheepjes Make-A-Long

Christmas Tangle Blanket MAL

Scheepjes KALs

CALs and MALs sponsored by Scheepjes

Around the Bases CAL 2015

Sophie's Universe CAL 2015

I want that Bag CAL 2015

Projects & Kits
Storm Cowl Kit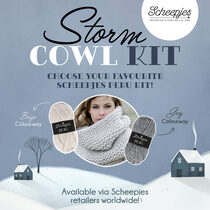 Learn to knit with Scheepjes!
If you're an absolute beginner who has never picked up knitting needles before or want to try knitting in the round, we're here to help you learn the basics and get you started on your very first knitted creation!
The Storm Cowl Kit is suitable for any level of knitter but has been put together with novice knitters especially in mind. As well as four balls of cosy Scheepjes Peru yarn, inside you'll find a simple pattern with additional diagrams to clearly explain the stitches. Online videos demonstrating the techniques have been specially created that you can replay as many times as you need.
Scheepjes Peru is a Super Chunky weight yarn so your cowl will grow quickly and be ready to wear in no time! As a blend of 20% Alpaca and 80% Acrylic, it is wonderfully light and soft against the skin and washable up to 30°C. Kits are available in a choice of two beautiful natural shades of Peru that will make your stitches easier to see.
Learning to knit in the round has all sorts of benefits. For example, there are fewer seams to sew up and circular needles are easier to transport for crafting on the go. As circulars promote a relaxed position and distribute the weight of your work evenly, they are also a more ergonomic choice. In addition to the kit, to make the cowl, you will need an 80cm circular needle with 12mm tips and a stitch marker.