Home
Home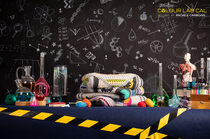 Home
Welcome to the Scheepjes Colour Lab CAL! Grab a pair of safety goggles and a white coat and follow in the footsteps of famous scientists to perform bold, pioneering experiments in colour theory. Collect an Access All Areas pass and a Limited Edition Lanyard, then concoct a bubbling mixture of favourite shades in the Scheepjes Colour Lab. Keep your unique colour placement in a Classified booklet... and gain exclusive access to new techniques and stitches!
Over 12 weeks, designer and Scheepjes Blogger Rachele Carmona of Cypress Textiles blog will lead this intriguing CAL and encourage participants to play with colour and create their own unique blanket. She has written a warm word of welcome on her blog! This motif-based design also offers a great deal of creative freedom for crocheters feeling adventurous. To help them explore colour combinations and visualise how their final blanket will look, an interactive booklet is included within kits, containing Periodic Colour Tables, colour theory information and colouring pages with a simplified schematic of the layout.

The Scheepjes Colour Lab CAL features various crochet techniques including join-as-you-go methods and is suitable for all levels of crafter, from adventurous beginners wanting to learn along the way, to advanced crocheters looking for a creative journey that's exploding with colour possibility. Scheepjes have collaborated with the designer to provide supporting materials before and during the CAL. These include Tips and Tricks, English & Dutch language video tutorials for both left- and right-handers by Esther from It's All in a Nutshell, and designer blogposts corresponding with the release of each pattern part. Participants are also invited to access ongoing support and expertise within the Official Facebook Groups from knowledgeable moderators and admins. The international Scheepjes Community are also on hand to offer friendly advice and encouragement.

Two exclusive kits are available: Scheepjes Metropolis, a luxurious Extra Fine Merino Blend, and Scheepjes' newest yarn Scrumptious, that has recycled plastic bottle content. Both CAL kits include three base shades and a Colour Pack containing all 80 available colours, offering countless exciting options for placement. Kit extras include the Classified Colour Lab booklet, a tapestry needle on a printed card, a Limited Edition Scheepjes Lanyard and an 'Access All Areas' pass that unlocks fun extra content, relating to the theme.

Experimenting with colour
The Colour Lab CAL is all about experimenting with colour. Will you follow the conventional road and combine colours according to the colour wheel, or do you abandon all rules to follow your own path? It's your blanket, your choice.
To assist you in this process we have made a colouring page with a schematic layout of the finished blanket, both with letters to correspond with your chosen colours, and without. You can download this as often as you like. Colour your heart out and see your vision come to life when you get going with your selected yarn!

Colour Lab Colouring Page
Colour Lab Colouring Page (with letters)
Colour Lab Colouring Page (fixed base colours)
Metropolis Kit

Metropolis Kit
Scheepjes Metropolis reflects the vibrant colours of the modern cityscape, with a lightly heathered effect suggesting a hint of urban decay. As a blend of 75% Extra Fine Merino wool and 25% Nylon, it is available in 80 colours and is a versatile Fingering weight yarn. With exceptional softness, Metropolis is a popular choice for blankets, garments and accessories.
The Colour Lab CAL Metropolis Kit contains:
17 x 50g balls of Metropolis in 3 base colours
1 Metropolis Colour Pack (80 x 10g)
Classified Colour Lab booklet
Darning needle
Limited Edition Scheepjes lanyard
'Access All Areas' pass granting exclusive extra content
The finished blanked will measure approx. 160 x 142cm (60 x 56in), blocked.
RRP: € 236/ £ 199 / USD 275
Metropolis blanket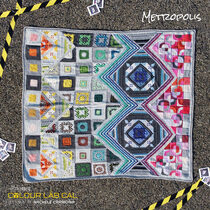 Scrumptious Kit

Scrumptious Kit
Scheepjes Scrumptious – a DK weight yarn that's lightweight, hypoallergenic and easy to care for, making it an excellent choice for blankets! With recycled content, Scrumptious makes a good option for the eco-conscious customer looking for a more sustainable all-round yarn. Scrumptious is a blend of 50% Recycled Polyester (plastic bottles) and 50% Acrylic and is available in 80 appealing colours.
The Colour Lab CAL Scrumptious Kit contains:
13 x 100g balls of Scrumptious in 3 base colours
1 Scrumptious Colour Pack (80 x 30g).
Classified Colour Lab booklet,
Darning needle
Limited Edition Scheepjes lanyard
'Access All Areas' pass granting exclusive extra content
The finished blanked will measure approx. 198 x 176cm (78 x 69in), blocked.

RRP: € 129 / £ 93.50 / USD 149
Scrumptious Blanket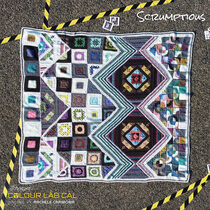 Materials
In addition to one of the kits mentioned above, you'll need:
2mm, 2.5mm and 3mm crochet hooks (Metropolis)
3mm, 3.5mm and 4mm crochet hooks (Scrumptious)
Stitch markers
Retailers
To make it easier for everyone to get their hands on a Colour Lab CAL kit, we have provided a list with retailers who stock it. Is your favourite Scheepjes retailer not on the list? You can always ask them to order a kit for you!
Please note! We have no real-time information about individual inventory. Contact your local retailer to check if they have kits available.
Retailers
Launch party
Retailers worldwide are entering into the CAL spirit and hosting in-store Colour Lab launch parties! Here are just a few. Ask your local Scheepjes retailer if they're joining the fun!
Launch Party
Pattern
As always, we'll share the free individual patterns on Wednesday 12:00h CET on our website and Official Facebook Groups. Because some motifs require more work than others, some patterns take up a week, others two weeks. We have provided the overview below for you to mark your calenders!
If you've purchased the official kit, you have exclusive access to the Colour Lab CAL Restricted Area. Starting now, right until the final week of the CAL, new and exclusive content will be posted, whether part of the pattern is released or not!
About the designer
Crochet has been Rachele's passion since 2005, when there was a major resurgence in yarn crafts. Self-taught with the help of library books, slow-loading internet and a group of like-minded college friends, she was soon crocheting daily, and continues to do so back home in Texas. She says that crochet is the creative outlet that balances her busy, structured life as a wife, and mom to four young children and various fur babies.

Rachele became fixated with blankets early in her crochet journey and has made over 300 to date! As her own designs evolved, she has taken inspiration from outside the crochet community in art forms such as weaving, digital art, screen-printing and quilting. Her signature style combines geometrics and mixed motifs as seen in much-loved designs for Scheepjes publications, such as the Surf and Turf Blanket and Time Travellers Blanket featured in recent YARN Bookazines.