Landscapes MAL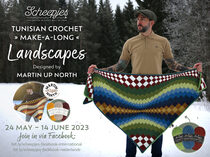 Inspired by the shades, lines and textures of his local landscape, designer Martin Up North Landscapes Shawl showcases a palette of earthy, environmental tones. The soft, muted shades of Scheepjes' sustainable Scrumptious yarn feature a gentle heathered effect, adding texture and serenity to a striking geometric Tunisian crochet pattern. Choose one of Martin's two colourways or curate your own, inspired by your own surrounds – your view, a park, or what you see on a walk.
This intermediate Make-A-Long is suitable for adventurous beginners through to advanced crocheters who are interested in learning the Tunisian crochet entrelac technique (using a standard crochet hook) or practising this method with a relaxing project.
Timetable
Every MAL week starts on Wednesday around noon CEST. In addition to the support in our Official Facebook Group(s), Martin will share tutorial photographs and videos on his website.
| | |
| --- | --- |
| MAL Week | Week |
| 1 | 24 May 2023 |
| 2 | 31 May 2023 |
| 3 | 7 June 2023 |
| 4 | 14 June 2023 |
Scheepjes Scrumptious (50% Recycled Polyester, 50% Acrylic)
359 Red Velvet Cake x 1 ball
302 Buttercream Icing x 1 ball
344 Pistachio Mafroukeh x 1 ball
325 Baklava x 1 ball
337 Key Lime Pie x 1 ball
335 Raspberry Rock Candy x 1 ball
342 Coconut Spirulina Cheesecake x 1 ball
305 Blue Smurf Cake x 1 ball
366 Cosmic Cup Cake x 1 ball
323 Cinnamon Peach Cobbler x 1 ball
315 Citrus Rice Pudding x 1 ball
326 Matcha Chiffon Cake x 1 ball
374 Blueberry Basil Galette x 1 ball
Scheepjes Scrumptious is an eco-conscious DK weight yarn made from 50% Recycled Polyester (plastic bottles). This easy-care option creates soft, light and durable items. Available in 80 colours.
The details for the Landscapes Shawl made with Scheepjes Metropolis are on Martin's website.
Pattern
The digital pattern for the Landscapes Shawl is available via Ravelry, in both English (UK) and Dutch.
During the MAL the pattern can be purchased for a discounted price of €4,- (usually €6,-). If you buy the pattern before May 23rd, the price is even lower at €3,-!
(prices may vary due to exchange rates and/or local taxes)
About the Designer
Born and raised in Vienna, Austria, Martin began his crafting journey after moving 'up north' to Sweden in 2010. He crochets to keep his hands busy between stints outdoors capturing the beauty of local nature with his camera. Designing gives him a sense of balance, "the contrast between the freedom of wilderness and the wish to control my hook and stitches gives me inner peace". He often incorporates geometry, texture and a range of techniques into his designs. Read more about Martin.