Sophie's Universe 5 Year Anniversary MAL
Come join our 'Summer Reunion' and celebrate the 5 year anniversary of the Sophie's Universe Blanket!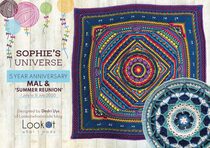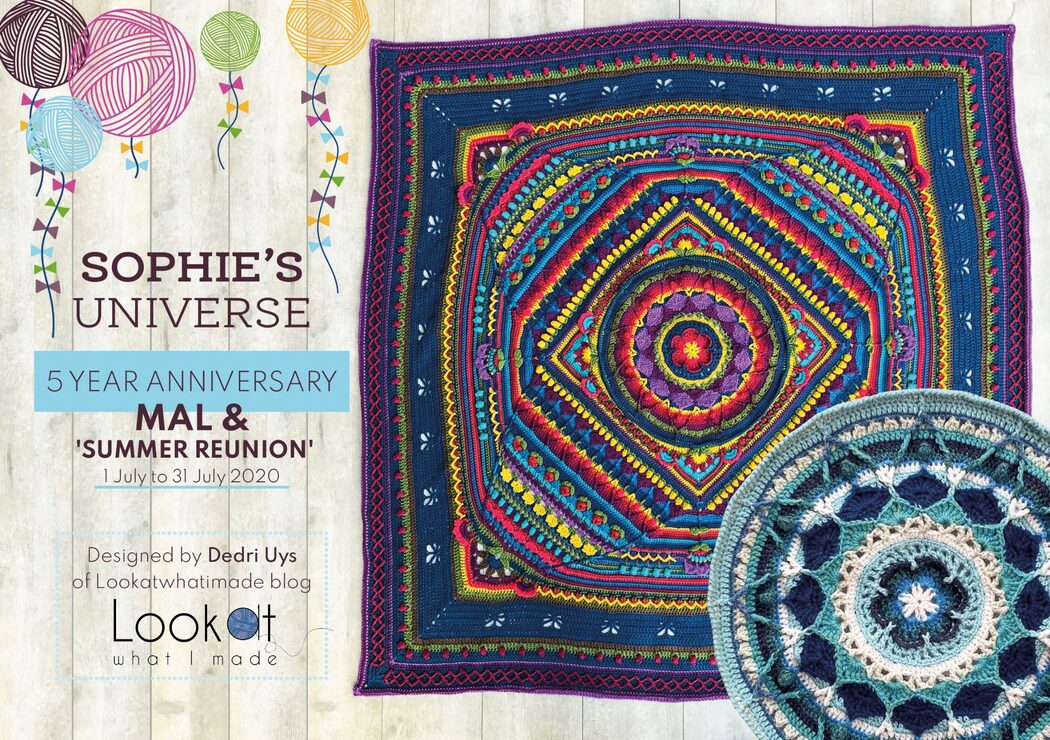 It's been 5 years already since the highly successful Sophie's Universe CAL (Crochet-A-Long), designed by Scheepjes Blogger Dedri Uys, arrived in our lives. We are thrilled to see the joy it still gives to so many crocheters around the world! To reminisce and create new memories, we are proud to announce a 'Summer Reunion' and very special Sophie's Universe 5 Year Anniversary Make-A-Long to be hosted in the Official Scheepjes Facebook Groups!

Thousands of adventurous beginners and experienced crafters have already created their own Sophie's Universe blanket. It is a crash course in crochet and a wonderous adventure! The complete pattern is already available so all crocheters can craft at their own pace. During the MAL, designer Dedri will take crafters on a wonderful trip down memory lane. She will share photos of the original Sophie's Universe and some new colourways made especially for this anniversary celebration by herself and some of her dear friends to help inspire crafters! A colouring-in template will be available to encourage crocheters to design their own unique colourway for this special celebration. Participants will also be able to enter a special GIVEAWAY where they have a chance to win a wonderful prize which will be announced on Dedri's blog, and have fun with exciting photography tasks throughout the 4 weeks of the MAL.

The Summer Reunion & MAL runs from 1 July to 31 July 2020, and will be hosted in our Official Scheepjes Facebook Groups (Dutch and International) where participants will receive help from our Dedri, our highly knowledgeable Facebook mods and admins, and fellow crafters around the world on how to get started with a Sophie's Universe Blanket. It is also the place where crocheters can share their already made blankets and/or share their new make!
Pattern
The FREE pattern for Sophie's Universe featured in this 5 Year Anniversary MAL is listed on Ravelry in English (US), Arabic, Danish, Dutch, French, German, Russian, Spanish, and Swedish and the pattern itself is available via Dedri's blog here. It is also possible to purchase the English (US terminology) pattern in a beautiful printed book form which is a stunning keepsake and handy to have as reference whilst crocheting.
List of Materials
The original Sophie's Universe Blanket was created in 2015 with our Cotton 8, Stone Washed XL and Softfun yarn. Dedri later also provided an option in our Colour Crafter yarns. To make this anniversary event extra festive, Dedri asked two of her friends (Scheepjes very own Creative Director Simy and Lila Bjorn Crochet) to design two extra colourways and created a third herself using the small Ubuntu kit from her popular Scheepjes Ubuntu CAL! Her friends' new colourways are made with our Metropolis and Bamboo Soft yarns, giving the blanket a whole new look and feel.
We encourage participants to pick and choose their own colour palettes! To help crafters select their own unique colourways for their blanket, Dedri is sharing a colouring-in template on her blog. However, if participants prefer to recreate one of the new palettes, we have listed the required shades for these colourways below. A full summary of all three original colourways of Sophie's Universe is available here.
| | |
| --- | --- |
| New Colourway #1 | NEW Colourway #2 |
| Scheepjes Metropolis | Scheepjes Bamboo Soft |
| 2x 024 Cota | 2x 260 Golden Nugget |
| 1x 009 Madrid | 1x 262 Hot Berry |
| 2x 070 Cairo | 2x 251 Deep Cherry |
| 1x 017 Multan | 2x 259 Majestic Red |
| 2x 018 Suwon | 3x 250 Decadent Plum |
| 2x 025 Nice | 3x 256 Grand Oak |
| 1x 008 Beirut | 2x 257 Smooth Cocoa |
| 5x 019 Marseille | 8x 253 Blue Opal |
| 1x 079 Munich | 1x 258 Jade Lapis |
| 1x 007 Philadelphia | 2x 252 Royal Purple |
| 1x 015 Ulsan | 2x 255 Celestial Blue |
MAL Timeline
The next blogposts will be shared on Dedri her blog: Look At What I Made.

| | |
| --- | --- |
| Wednesday 1 July 12pm (CEST) | Week 1 |
| Wednesday 8 July 12pm (CEST) | Week 2 |
| Wednesday 15 July 12pm (CEST) | Week 3 |
| Wednesday 22 July 12pm (CEST) | Week 4 |
About the designer
Scheepjes Blogger Dedri Uys lives and breathes crochet, and loves nothing more than to teach others the craft and to get them absolutely hooked. Via her blog Look At What I Made, Dedri shares her striking crochet designs and tutorials filled with useful techniques and background information.
In 2015 Dedri rose in popularity thanks to her beloved Sophie's Universe CAL, which was a huge success. Adventurous beginners around the world succeeded in crafting an incredible blanket that looks complex, but certainly wasn't thanks to her help and detailed instructions! Dedri has been unstoppable since and publishes bold and beautiful designs regularly via her blog.