Get Connected MAL
Get Connected MAL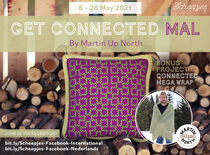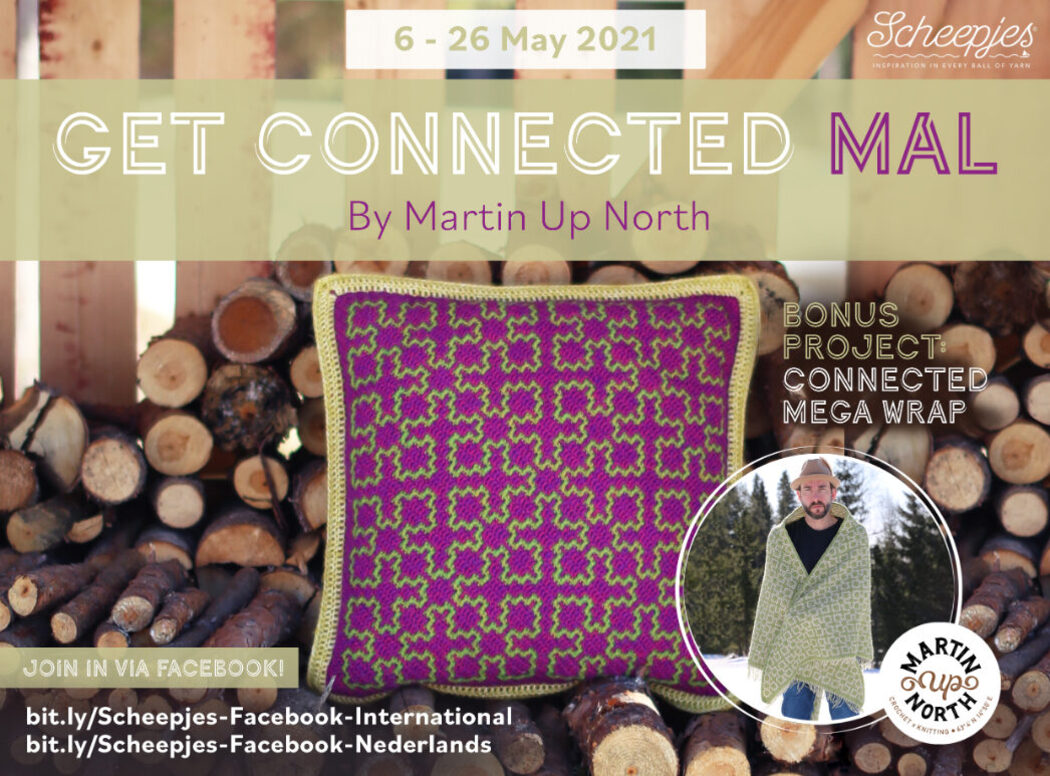 Get Connected MAL
As so many members of our broader crafting community continue to remain in lockdowns around the world, we are humbly reminded of the importance of staying connected, not only to our families and friends, but to the communities in which we share our passions and gain invaluable skills and inspiration. Nowadays, thanks to an abundance of technology, we are fortunate to be able to connect with fellow crafters from the palm of our hands, extending our connections to all corners of the world and providing endless creative opportunities.
Inspired by the notion of 'connectivity' and the clever way that mosaic crochet stitches overlap to create stunning interwoven motifs, the Get Connected MAL is an ode to these social connections. This MAL intends to bring crafters together from all around the world in our Official Scheepjes Facebook Groups by crocheting Martin Up North's Connected Cushion design. As a bonus pattern, Martin is also launching his Connected Mega Wrap design on the first day of the MAL. This bonus project is a triangular wrap featuring the same fascinating mosaic crochet stitch pattern as the cushion, with both projects using Scheepjes Stone Washed and River Washed yarns.

The Get Connected MAL will be held from 6 to 26 May and is suitable for crocheters with an intermediate crochet level, providing the perfect opportunity for crafters to learn the mosaic crochet technique. Like all Scheepjes MALs, this project is hosted within the Official Scheepjes Dutch and International Facebook groups wherein participants benefit from the support and guidance of the designer, fellow members of our online community (almost 110,000 members in total!), plus our highly knowledgeable mods and admins. Further information and support will be available via Martin's weekly blog posts as well as helpful videos providedby Esther of It's All in a Nutshell blog.
The crochet patternfortheConnectedCushion is availablefor FREE via Martin's blog (in Dutch, English (UK/US) andGerman) and via Ravelryfor ±€2,66 (in the aforementioned languages for those who wish to support the designer financially). The crochet pattern for the Connected Mega Wrap will be released on May 6 under the same conditions.

Materials
Connected Cushion

Scheepjes River Washed (78% Cotton, 22% Acrylic; 50g/130m)
Yarn A: 942 Steenbras x 3 balls
Yarn B: 962 Narmada x 3 balls
Scheepjes Stone Washed (78% Cotton, 22% Acrylic; 50g/130m)
Yarn C: 812 Lemon Quartz x 1 ball (for border) 
4mm and 4.5mm crochet hooks
45 x 45cm cushion cover + insert
Measurement: 50 x 50cm including border
Connected Mega Wrap

Scheepjes Stone Washed (78% Cotton, 22% Acrylic; 50g/130m)
Yarn A: 806 Canada Jade x 18 balls
Yarn B: 801 Moon Stone x 15 balls
4mm crochet hook
Measurement: short sides 175cm, long side 245cm
About the designer
Martin has been living with his family in the North of Sweden since 2010. When he is not losing himself in crochet and knitting he can be found outdoor scapturing the beauty of nature with his camera. He says that the contrast between the freedom of the wilderness and his wish to control his hook and stitches gives him innerbalance. Martin's patterns are diverse, varying between soothing, repetitive designs to more advanced stitch combinations which require more focus and attention. He finds this diversity relaxing and believes that every moment has its own pattern. 

Read his first blog post over the Get Connected MAL.