Submenu
Scheepjes CALs

Scheepjes Colour Lab CAL

Scheepjes CAL 2020 - d'Histoire Naturelle

Scheepjes CAL 2019 - Rozeta

Scheepjes CAL 2018 - Ubuntu

Scheepjes CAL 2017 - Hygge

Scheepjes CAL 2016 - Last Dance on the Beach

Scheepjes CAL 2015 - Flight of Fancy

Scheepjes CAL 2014

Scheepjes Make-A-Long

Christmas Tangle Blanket MAL

Scheepjes KALs

CALs and MALs sponsored by Scheepjes

Around the Bases CAL 2015

Sophie's Universe CAL 2015

I want that Bag CAL 2015

Projects & Kits
Week 9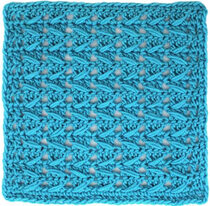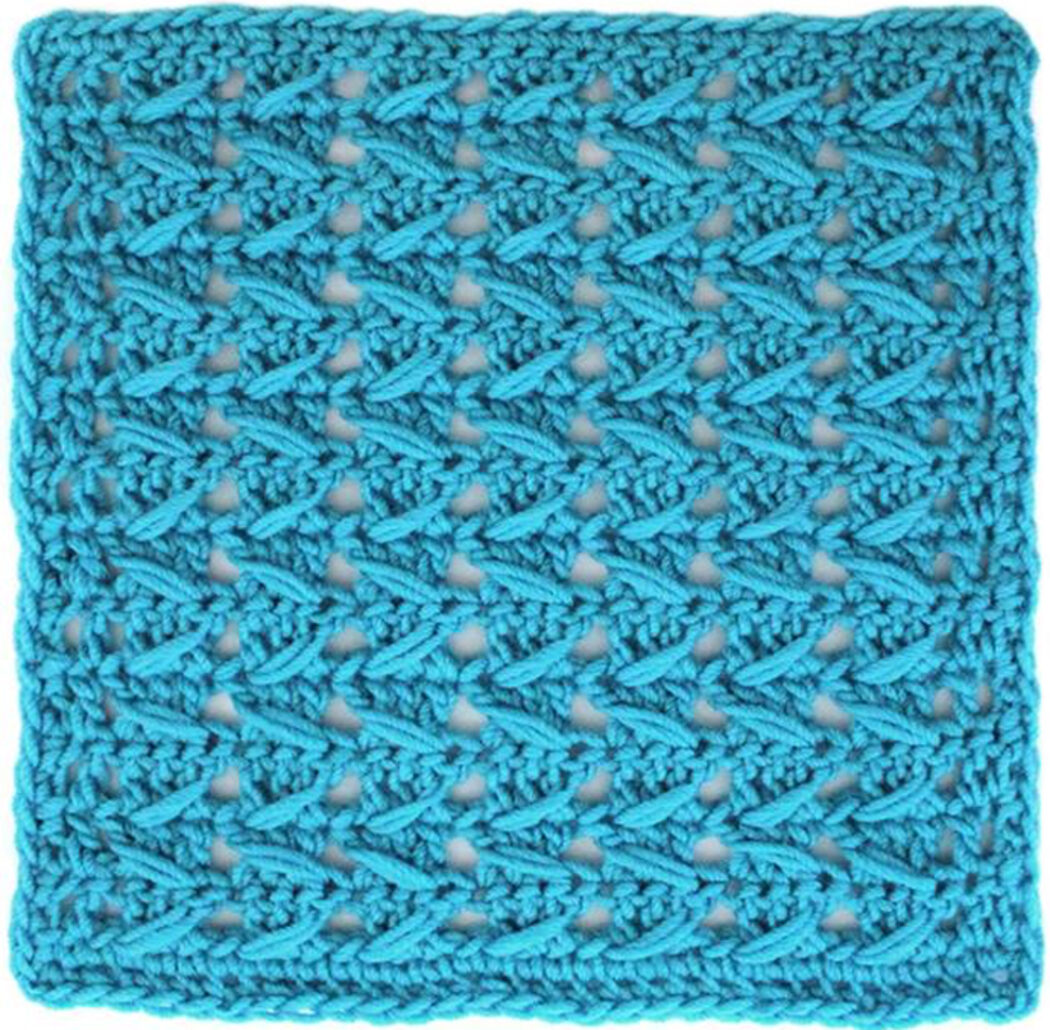 Yarn Colour for this Square
Dancing in the Sea: Merino Soft Soutine (615) or Colour Crafter Middelburg (1003)

Dancing in the Rain: Merino Soft Turner (610) or Colour Crafter Urk (1034)

Dancing under the Stars: Merino Soft Van Gogh (614) or Colour Crafter Burum (1709)

Abbreviations (UK terms used throughout)
ch chain
dc double crochet
double crochet decrease (dc2tog) (insert hook in next st, yrh and draw a loop through) twice, yrh and draw through all 3 loops on hook.
tr treble crochet
ss slip stitch
RS right side
WS wrong side
Special Stitches Cable Skip the next st, tr in the next 3 sts. Inserting hook into the skipped stitch, make a tr over the 3 sts just made. When making the crossed tr over the other 3 sts, work loosely so that your work doesn't pull.
Pattern: Make 4 squares
Ch33.
Row 1 (WS): Dc in second ch from hook and in each ch to end, turn. [32 sts]
Row 2 (RS): Ch3 (counts as tr), tr in next st, (Cable over next 4 sts) 7 times, tr in each o f last 2 sts, turn.
Row 3-14: Repeat row 2, do not fasten off. Do not turn.
Edging
Round 1 (RS): Ch1 (does not count as st), work 26 dc evenly along each side of the square, with 3dc in each corner, ss to first dc. Fasten off, weave in ends, add contrast thread and block.