Submenu
Scheepjes CALs

Scheepjes Colour Lab CAL

Scheepjes CAL 2020 - d'Histoire Naturelle

Scheepjes CAL 2019 - Rozeta

Scheepjes CAL 2018 - Ubuntu

Scheepjes CAL 2017 - Hygge

Scheepjes CAL 2016 - Last Dance on the Beach

Scheepjes CAL 2015 - Flight of Fancy

Scheepjes CAL 2014

Scheepjes Make-A-Long

Christmas Tangle Blanket MAL

Scheepjes KALs

CALs and MALs sponsored by Scheepjes

Around the Bases CAL 2015

Sophie's Universe CAL 2015

I want that Bag CAL 2015

Projects & Kits
Week 11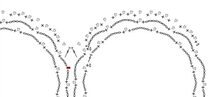 You will need
Scheepjes Linen Soft (47% cotton, 27% linen, 26% acrylic, 50g/135m)
· Peacock Kit: leftover 613 (approx. 1.5 balls)
· Hummingbird Kit: 630 (approx. 1.5 balls)
· Heron Kit: 618 (approx. 1.5 balls)
4 mm crochet hook
Tapestry needle
Note
After working the joining Round 2 from the previous week you will be left with 2 types of chain spaces around the edge of the shawl. 'Free' spaces are made up of ch-7 which are not joined, and 'Joining' spaces have 2 adjacent spaces joined by a ss.
Edging pattern
Join yarn in any free space on the edge of the shawl.
Work around the entire edge of the shawl, with (dc, picot, dc, picot, dc, picot, dc) in every free ch-sp and picot above every picot. Where there is an angle formed by 2 adjacent joining spaces, work (picot, 2ttrtog picot).
At the end of the round, ss to first dc, fasten off and weave in ends.
Finishing
Weave in any remaining ends, block the shawl gently to the measurements (see Finishing Pdf for help).