165 years of Scheepjes | Scheepjes interviews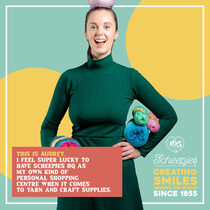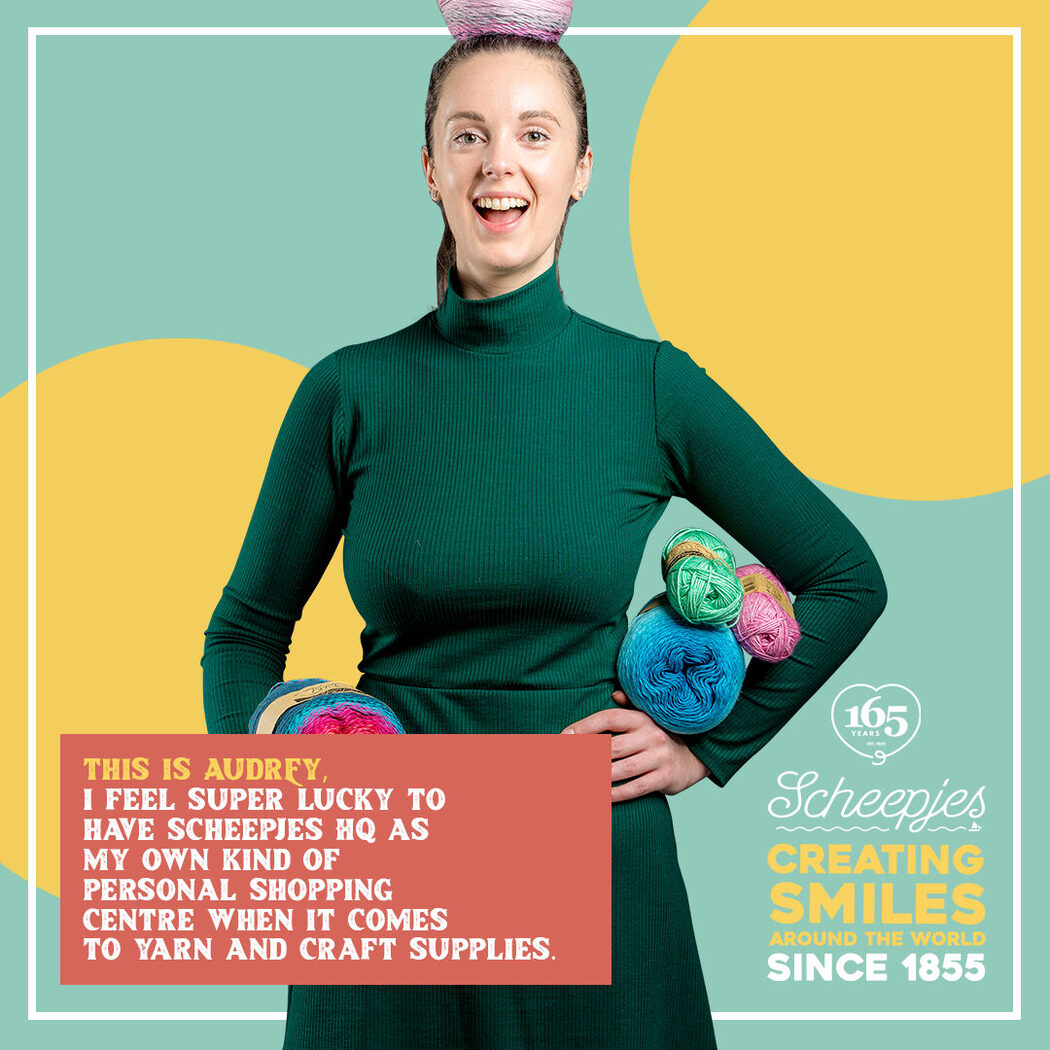 Interview Audrey
If you're into everything yarn, arts and crafts, then you've probably heard the name Simy! Pouring her heart and soul into her role as Scheepjes Creative Director for more years than she cares to remember, Simy has truly made a name for herself amongst the worldwide Scheepjes crafting community. With Scheepjes celebrating a phenomenal milestone this year and throughout 2021 – their 165th birthday – we felt that there's no better moment than now to get to know the illusive Simy a little better. After chatting with one of her Creative Team members, Audrey, who works alongside Simy on a daily basis, not only did we shed light on some of the mystery surrounding Scheepjes' creative mogul, but we gained insight into Audrey's role at Scheepjes and learned a little more about her along the way.
So, Audrey, tell me a little about yourself?
Well, my name is Audrey and I currently work in the Scheepjes Creative Department as a Text Editor and Copywriter among other things. I'm trained in Applied Linguistics (English), completing a Masters degree at the University of Melbourne and partially at the University of Amsterdam, and have pretty much been surrounded by all manner of crafts my whole life. Originally from Geelong, Australia, I ended up moving to the Netherlands for a very cliché reason: 'for love'. My partner had been travelling and working in Australia and I guess we just hit it off! The rest is history, really! I do truly love living in the Netherlands; it isn't so culturally different from Australia besides the initial language barrier and climate, of course.
What sparked your personal creative journey?
It all started as a young child really. I remember my mother ran a business selling handmade bears and dolls and I just couldn't wait to be able to have a turn on her sewing machine! Then at around the age of 16 when we were living on a farm a half hour drive from the nearest town, I went and asked by mum if she could ask my auntie to teach me crochet! I was pretty hooked after that, spending most of the weekend in my craft hut: an old construction site hut my dad picked up on an excavation job. My parents would honestly have to shout for me at dinner time I'd be so absorbed into a project.
So, how exactly did you end up working at Scheepjes?
As it turns out, my partner was a former employee in the Logistics department here at Scheepjes. At the time, around mid-2018, I was searching for a summer job and due to my visa restrictions, it was proving fairly tricky to get one! So, my partner offered to ask his CEO, Job, who was and still is known for being super approachable and down to earth when it comes to such things. Having a family connection himself to Australia, he was instantly willing to go the extra step required to hire someone with a non-EU nationality. After starting in the warehouse packing orders, within a couple years I've ended up in the position I am now: able to combine my job, education and my personal passions in a way I never expected, particularly not in a foreign country so soon after arriving. Dream job, much!?
What about Scheepjes makes you smile?
Honestly, the warehouse! My initial reaction when I was first taken on a tour of Scheepjes HQ was genuinely "wow" the moment I laid eyes on the contents of one of their warehouses. I felt like I was visiting Charlie's Chocolate Factory! All the different varieties of yarn and the hundreds of different colours were unbelievable to see with my own eyes. I mean, colour is something that really sets Scheepjes apart from other yarn brands: so many colours to choose from! Basically, I feel super lucky to have Scheepjes HQ as my own kind of personal shopping centre when it comes to yarn and craft supplies. Now isn't that a big plus!
Given you play a key role in Simy's team, would you be able to tell us a little bit about her? To start, how would you describe her?
In a nutshell, Simy is the Creative Director of Scheepjes which in itself should be fairly self-explanatory. I find her to be an incredibly warm and dynamic person who I instantly felt a rapport with. To say she's exceptionally hard-working would probably be a slight understatement, shown by her commitment to working far more hours than she'd openly admit, but despite that she seems to have balancing work, rest, and time with each of her team members down to a T. She'll be the first to turn on the lights at Scheepjes and the last to turn them off! I truly have the feeling that she genuinely cares about us as individuals and as people, keeping contact with us both professionally and as a kind of mentor in and outside work hours. She is also a crazy multitasker, running so many projects side by side but always with a clear passion for each separate thing.
And how would you describe her management style?
Although being closely involved in all the projects we're developing, she definitely creates space for us to bring our ideas and passions to the table! Not only that, she makes sure we receive opportunities to grow professionally, and is someone who is always humble and willing to help out; these qualities I feel describe Scheepjes' ethos as well to an extent. If ever one of us gets stuck on an idea or task, she always knows exactly what to say to help spur us on and get the best out of all of us. Her enthusiasm can be so contagious! Besides this, she regularly organises 'social' meetings during the week, to balance out our more serious work-related meetings since we've all started working from home. In these we completely ignore what we've been working on just to catch up on life! And if we need some off-screen time, that's no problem either. She just really appreciates honesty, because to her, that's what builds trust and ultimately gets the best out of us and our team.
Could you share a little more about Simy's passion for knitting, crochet and crafts?
All things yarn and craft have basically been a lifelong passion of Simy's. She once shared with me that it was her grandmother who her taught her much of what she now knows, or at least, was a big influence in her life as a budding crafter. She pretty much knows everything there is to know about all crafts, though if I had to highlight one of her phenomenal skills it would be her ability to combine colours! Just one look at the carefully selected colours in the Cutie Pie yarn colour packs proves this to be true. To share a personal anecdote, Simy actually helped me in choosing the colourway for a blanket I am currently working on. I went and picked out a bunch of random colours I simply liked, and the minute Simy laid her eyes on them, she instantly knew what had to be changed to balance out all the wacky shades. It really looks awesome, so I'm glad to have been able to take advantage of her knowledge!
Do you know what Simy likes to get up to in her spare time?
Well, she adores decorating and is a sucker for seasonal changes, so I believe the majority of her spare time is spent either out in nature wandering around her beloved garden or decorating her home! When we're in the office, she'll usually bring a few things in to liven up the space there too. It's clear the seasons are a big part of what inspires her creativity, so naturally we see a lot of that in the knitting and crochet projects she's involved in designing. In fact, I think you'll really see a big slice of Simy in our next issue of YARN Bookazine! (Stay tuned.)
What do you think makes Simy proud?
I would say Scheepjes as a whole definitely gives her a sense of pride; seeing how much the company has flourished in the last decade and all the successes she's been a part of during this pivotal period in time, in particular, the brand's significant growth in notoriety all around the world. A project in particular that I know she is very proud of, although she would never say it out loud and is perpetually humble in my opinion, is YARN Bookazine! Of course, it's always a team effort to bring such a big project to life, but she is generally the main visionary behind the concept of each issue and always knows exactly how she wants it to turn out. You can really see with each release of a new issue how she glows with excitement!
I have the impression that Simy really loves tea. Can you tell me a little more about your experience with this apparent obsession of hers?
I can absolutely confirm that the rumours are true: Simy loves tea! In fact, she literally always has a cup of tea next to her, which is something I happen to have in common with her. The cupboard is almost always full with excess teabags she's brought in from her home to share with our department, with her favourite being flavoured varieties of sencha green tea. I think in addition to the taste, of course, she loves how sharing a cup of tea can bring people together! This also carries across to food; at Christmas time she brings in home-baked traditional English fruit mince pies to share and invites each member of our team to bring something yummy to share too. Last Christmas, I brought in some Australian party pies!
Would you consider Simy a member of the Scheepjes family?
Oh of course! The relationship Simy shares with Scheepjes is comparable to that of a mother and child, really, seen through her connection to her staff and the love and care she puts into every part of her role there. In fact, I'd like to believe that everyone who works for Scheepjes is part of the Scheepjes family; we have a personal bond with our CEO, our team members, and are respectful towards one another and of what each of us contributes to the bigger picture. I really feel like I get the opportunity to be myself and grow at Scheepjes, which to me is the definition of a supportive family!
Interview Job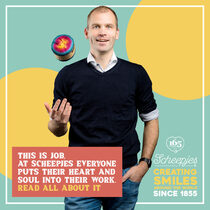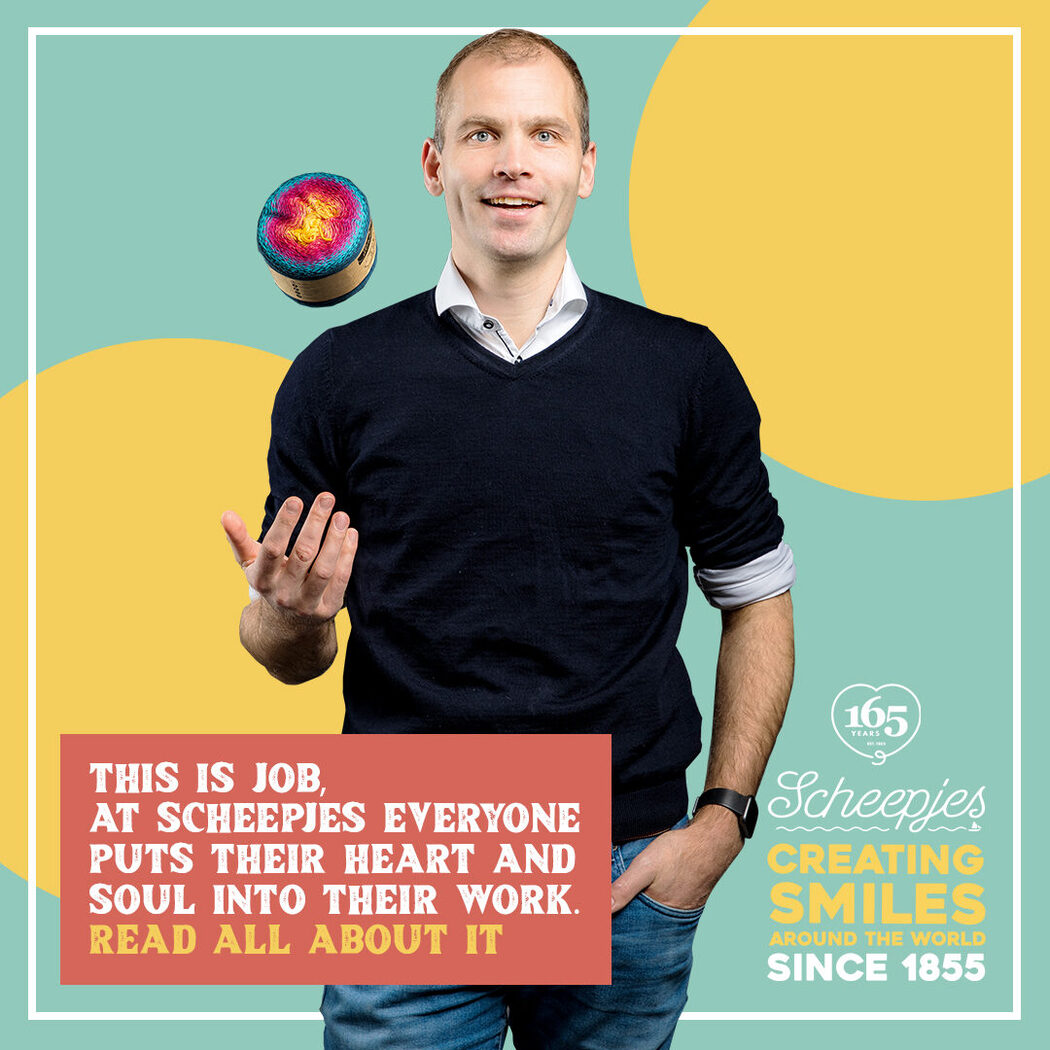 How did it all begin?
My parents started out 50 years ago on the market in Groningen. My mother was studying art history and my father economics. My father had to help support himself and was looking for a part-time job to pay for his studies, so he worked selling haberdashery on the market in Groningen. Together with my mother, he quickly developed this into his own market stall. This was during the time of the oil crisis and my parents worked long days and had to work hard. They didn't mind it at all because they loved it, it was their passion.
I say market stall, but my parents were actually one of the first with a market van. People in the marketplace thought my parents were crazy. They laughed at them, but before long the benefits were easy to see as they could just pack the van and go. This made being on the market much easier as it took less time and effort to store and tidy things up. Less time than with a whole stall. My father already thought differently than others and was ahead of his time. This progressive mentality took us and the company a long way.
At that time it was already clear that my father liked buying more than selling. This has become a bit of a running joke as this can still be the case at times. At first, my parents only sold zippers and buttons, but the range was soon extended to include more additional products. They noticed that this worked well and that they could serve their customers better and more completely. Over the years we have developed into a wholesaler and now have more than 50,000 items in our product range.
Scheepjes, a brand with a rich history.
Since 2010, we have breathed new life into Scheepjes. The Netherlands had known the brand for years, particularly for yarn for socks. Scheepjes was started in the Dutch village of Veenendaal in the year 1855. At that time, wool combing and spinning was still performed by hand, according to traditional methods, and practiced as a cottage industry. Over the years, Scheepjes grew into a company which supported many families. At its peak in 1962, 900 people worked for Scheepjeswol. On the year of its 150th anniversary, the company even received the Koninklijk (Royal) title, which is an honorary title given by the Dutch monarchy. In short, a beautiful brand with a rich history, a family business like ours, and a brand that connects people.
New start for Scheepjes
By the end of the 80's, Scheepjes had really lost its spark. It was actually at a standstill. In 2010 we had the opportunity to breathe new life into this brand and took over the company. My father and I immediately had the feeling: we can make something beautiful out of Scheepjes again.
How did you achieve this?
We first started by mapping out the target group. What is happening with the customers, what motivates them, what makes them happy? I believed was important to get to the bottom of this before going any further. In addition, it is important to surround yourself with people who understand the business. We put together a super professional team, with members who each have their own expertise. We gave the team our trust to expand the Scheepjes brand. This was a time when influencers were also up and coming, so we started to work together with them. Along with putting together the new team, this has been one of the best steps we have taken during the development of Scheepjes. The online possibilities are enormous. By entering into the right collaborations we have seen Scheepjes grow into an international brand.
Qualities and colours of Scheepjes?
I haven't even begun to describe the qualities of wool and yarn from Scheepjes. We have devoted a lot of our time and attention to this. We create the ideas for the colours and qualities of the wool and yarn, which we then pass on to our spinners. This enables us to bring unique products to the market in all the colours we want. A lot of use of colour is not very common in our market and we sometimes take risks with that, but we do love colour and we notice that our customers appreciate it too. It is one of the things that makes Scheepjes stand out. We also often experiment with different qualities, we are never stop moving and always strive to be innovative. Every season we come up with new yarn and wool.
Why do you get a smile from Scheepjes?
We now have approximately 90 people working for the company, which is quite a responsibility that I enjoy every day. Why do I get a smile from Scheepjes? Because I see that everyone works well together, they all have the same goals and everyone puts their heart and soul into their work and the company. Then you can't help but smile, right?!
The future of Scheepjes
We still have so many great plans! However, one of the things we really want to focus on is corporate social responsibility. Doing our part to make a difference in the world. Not just because we have to, but really from an intrinsic motivation. We have already made a start on this, but we will continue to implement it in the organization, our products and logistics. More to come!
Interview Hursley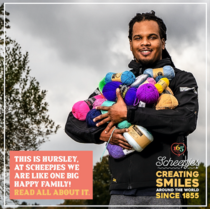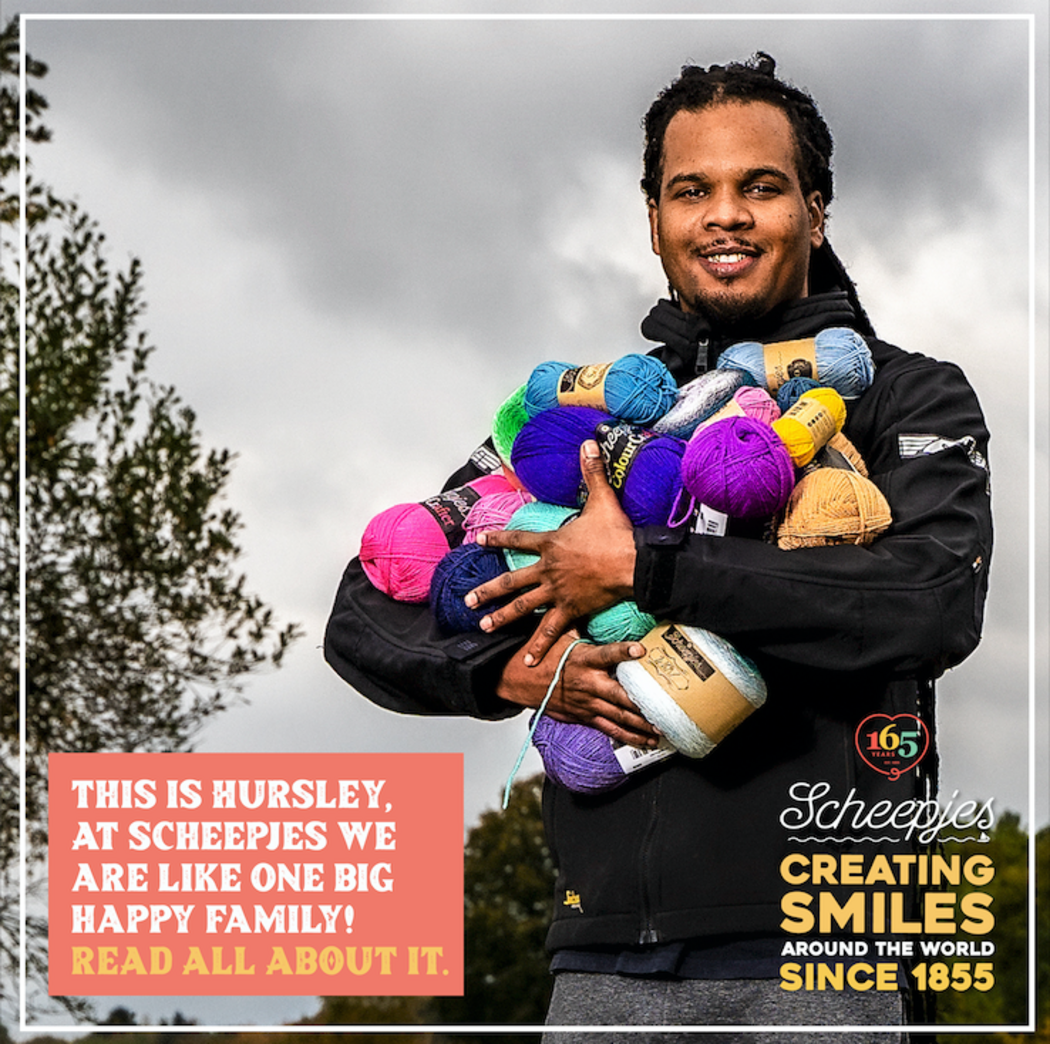 Hursley, 34 - Warehouse Manager
How does Scheepjes make you smile?
Working with my colleagues, we are like one big happy family, quite literally too!
My little brother works for Scheepjes and my colleague's sister. There are so many family members working together within the company. It's a great feeling knowing that we, as a team, ensure all orders reach our customers on time.
If we are busy and need to work overtime, we do it happily with a big smile as we have so much fun.
We are truly a family that works together.
Interview Lineke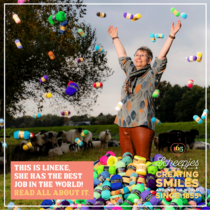 "Why does Scheepjes make me smile? I've had the best job in the world for 23 years! Every day I get to share my passion with crafters who get as much joy as I do from the latest patterns, products and the beautiful colours of Scheepjes wool and yarn. With this you can't help but smile!".
Lineke Vrieling is a 'Jack of All Trades'! From the age of 17 she worked in haberdashery, which is how she got to know the De Bondt family, the owners of the Scheepjes family business where she has worked for the past 23 years. She takes us with her as she tells her story about Scheepjes and the things that make her happy. Lineke doesn't exactly have one job title but fills a huge variety of roles. From helping in the warehouse to contact with customers, Lineke knows the company through and through and never hesitates to get involved.
Scheepjes Smiles
It's fantastic that I get to spend every day sharing my passion with people with the same passion, who are also so excited about the newest patterns, yarns and colours. I never get tired of talking about it. My husband sometimes says: "yes, yes, we know, Lineke", but Scheepjes is just part of who I am. My sister is the same, by the way. She has been working for Scheepjes for many years and has as much love for the job as I do. My daughter is now also working for Scheepjes. It's wonderful to see how we share the same passion as a family. In that respect, Scheepjes really is a family business. Of course, also because the current owner, Job de Bondt, has taken over from his father.
Crocheting Myself
I myself, also do a little crochet each evening. Nothing complicated, just easy and straightforward projects. I sometimes say: "crocheting and knitting is chocolate for the brain". It's wonderfully relaxing!
Working With Clients Gives Me Energy
The contact with customers, suppliers, artists and makers gives me so much energy. I really have a bond with the people I work with. We give each other our best and know that we have to work together. That creates a bond and provides a wonderful working atmosphere. I always try to find the best solution for a customer, and I like to brainstorm along with them. Whether it's on a weekend or in the evening, we always make it work. A happy customer gives me energy and that makes me happy. One of Scheepjes' values is that we are open and transparent, we never lie. I think that's also a fundamental value for working well together and achieving the best result.
Colours and Qualities
We have many beautiful unique products that make our customers really happy. We develop our own yarn and wool, exactly the way we think they should be. We then discuss in detail with the spinner how we believe the quality and composition of a wool or yarn should be. We actually have very stringent quality standards and that results in types of wool and yarn that are unique in the market. I think that is what makes Scheepjes stand out. For example, we were the first company to produce Stone Washed yarn. We also always produce our yarns in a huge variety of colours. We just love colour!
What Do You Find Typical Scheepjes?
Scheepjes is a big family. We work hard and do things together, every day with a big smile. Not because we have to, but because this truly is the best job in the world!
What Was it Like in the Past?
I have witnessed first-hand the growth that Scheepjes has experienced over the past 10 years. We used to process orders in the warehouse on Saturdays. At dinner time, Mr. De Bondt (sr) would say: "come everyone, let's eat", and then he'd serve us a delicious meal. We would then all eat together at the kitchen table. A lovely atmosphere that continues to exist in the company today. We still always come together to eat at Scheepjes HQ.