Submenu
Scheepjes CALs

Scheepjes Colour Lab CAL

Scheepjes CAL 2020 - d'Histoire Naturelle

Scheepjes CAL 2019 - Rozeta

Scheepjes CAL 2018 - Ubuntu

Scheepjes CAL 2017 - Hygge

Scheepjes CAL 2016 - Last Dance on the Beach

Scheepjes CAL 2015 - Flight of Fancy

Scheepjes CAL 2014

Scheepjes Make-A-Long

Christmas Tangle Blanket MAL

Scheepjes KALs

CALs and MALs sponsored by Scheepjes

Around the Bases CAL 2015

Sophie's Universe CAL 2015

I want that Bag CAL 2015

Projects & Kits
Cosy Moments MAL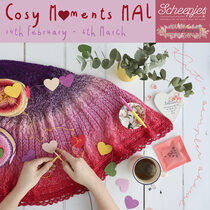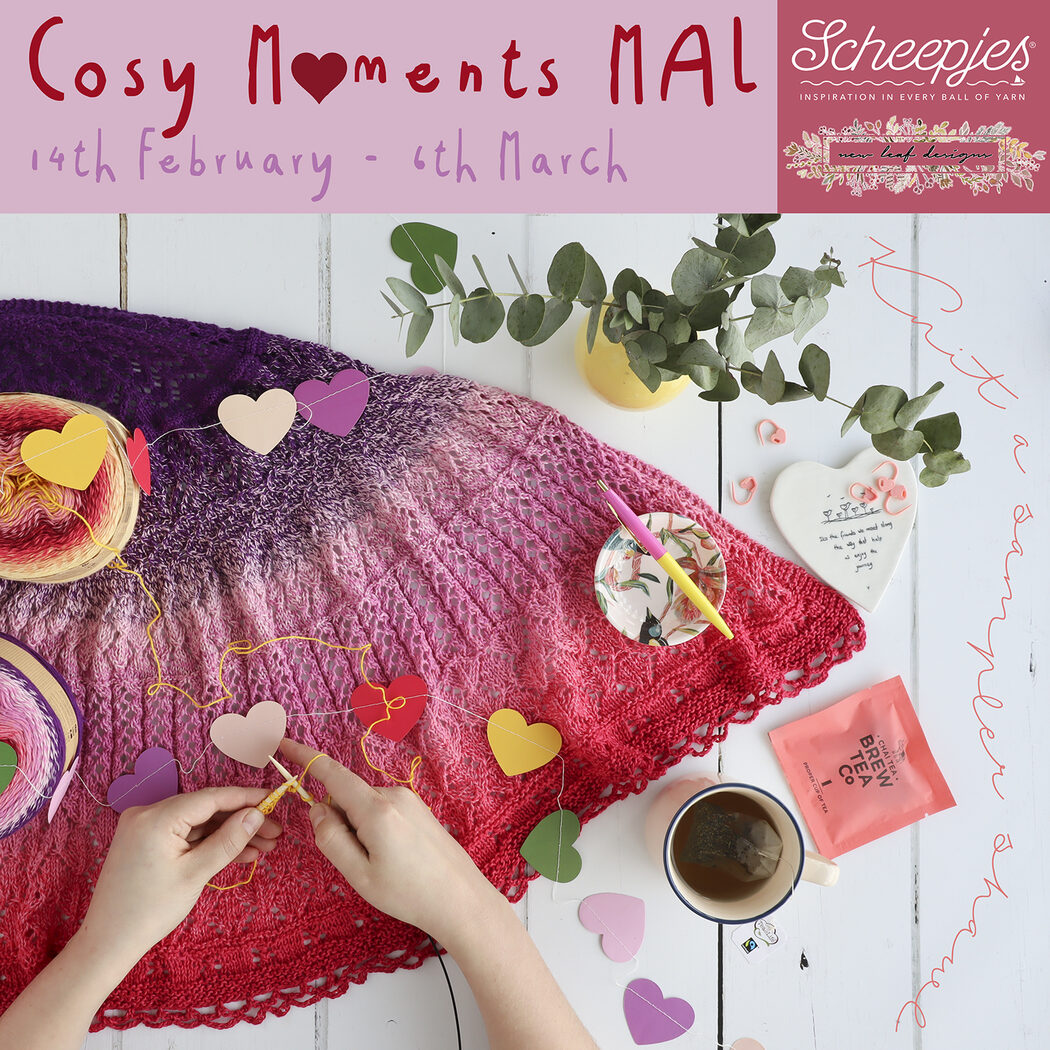 For the very first time, Scheepjes will host a FREE Make-A-Long for the KNITTERS amongst us! The Cosy Moments Shawl is a gorgeous, lacey design made by Carmen Jorissen of New Leaf Designs.
This knitting pattern is suitable for intermediate knitters who want to treat themselves to a new accessory, or for knitters of the past who'd like to pick up their trusty knitting needles once more and are looking to refresh their skills. The Cosy Moments Shawl is a Sampler Shawl, designed with a variety of different lace sections, so you'll learn beautiful new stitches and techniques along the way.
To make this shawl you'll need just one cake of Scheepjes Whirl. The finished shawl measures 135 x 60cm. If you prefer a warmer and larger version, you could use one ball of Scheepjes Whirligig instead.
This MAL will run in 4 parts from 14 February until 6 March 2020, and will be held in the official Scheepjes Facebook Groups. There are two groups: a Dutch one and an international one. Hope to see you there!
If you are impatient and don't want to wait the full 4 weeks to get the FREE pattern, or just want to support this fabulous designer, a 'Queue Jump' pdf can be purchased from Ravelry.
Materials
One ball of Scheepjes Whirl, Whirl Ombre, Woolly Whirl, Frosted Whirl or one ball of Scheepjes Whirligig
3.00mm circular needles for Scheepjes Whirl, or 3.50mm circular needles for Scheepjes Whirligig
Stitch markers
Row counter
Measuring tape
NOTE: one ball of Scheepjes Whirl or Whirligig is more than enough to knit a gauge swatch and the shawl.
Pattern
The free knitting pattern will be available via Carmen's blog from Friday 14 February onwards. A new part will be available every next friday until March 6th.