Meadow Bag MAL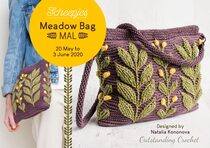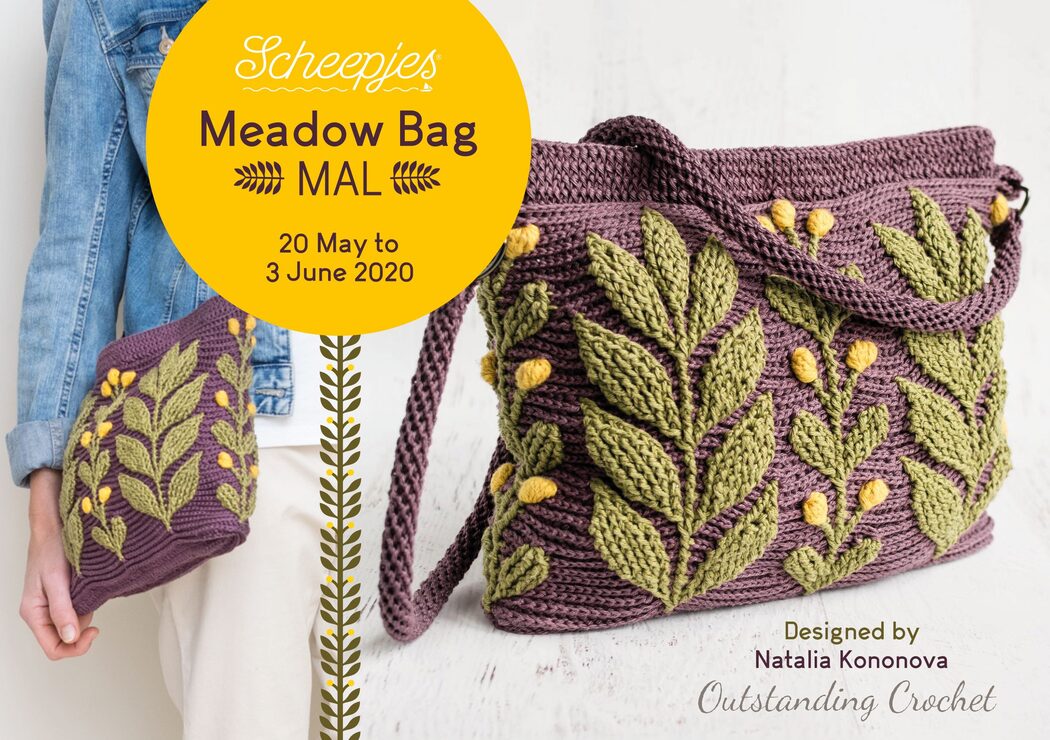 We are excited to announce that our Friend of Scheepjes Natalia Kononova of Outstanding Crochet blog is the designer of our NEW MAL, featuring her oh so beautiful Meadow Bag!
This incredible bag is suitable for intermediate and advanced crocheters looking to hone their embossed crochet skills with Natalia's help. Thanks to the fabric lining and the D-rings that connect the bag straps to the body, participants will be able to enjoy this bag for years to come. The Meadow Bag is crocheted using our 100% Mercerised Cotton yarn Catona, which is available in an extensive range of 109 colours, providing plenty of opportunity to mix & match personal colour choices to create a vibrant, unique make.
Throughout the MAL, designer Natalia will provide tips and tricks on how to crochet specific parts of the design via her blog. The MAL will run from 20 May till 3 June 2020, and will be hosted in our two Official Scheepjes Facebook Groups: Dutch and International. Not only will participants benefit from Natalia's expertise, but also from our highly knowledgeable Facebook mods & admins and, of course, participants across the globe. On 13 May, Natalia will explain the basic technique of embossed crochet, and help us prepare by crocheting a swatch.
Pattern
The Meadow Bag is a paid, ad-free PDF containing the entire pattern in English (US) or Dutch. Especially for MAL participants the Meadow Bag pattern will be discounted by 20% for a LIMITED TIME only from 11 May 2020 till 8 June 2020 when purchasing it from Ravelry or Etsy (no discount code required). After this time, the pattern will still be available but will return to full price.
List of Materials
The Meadow Bag is crocheted using Scheepjes Catona yarns, which is a waste water produced yarn made from 100% Mercerised Cotton, characterised by a beautiful, silky shine and soft touch. It is subtle yet strong, making it an ideal yarn for creating garments and accessories. To make Natalia's Meadow bag in her colour combination, participants will need the following:
Scheepjes Catona (100% Mercerised Cotton; 50g/125m)
Colour A x 5 balls, e.g. 526 Ashes
Colour B x 2 balls, e.g. 395 Willow
Scheepjes Catona (100% Mercerised Cotton; 10g/25m)
Colour C x 1 ball, e.g. 249 Saffron
2.75mm crochet needle
2x 40mm closed D-rings
Buckram or other stiff interfacing material

30cm zipper
Lining fabric
Needle, thread and a sewing machine

Good to know: this project is ideal for creating your own colour combinations! Today, Natalia will provide some colourway suggestions via her blog to inspire participants to create their own unique colour palette.
About the designer
Natalia Kononova is a successful designer creating crochet and knitting patterns, which she shares on her blog Outstanding Crochet. While she is originally from Russia, she now calls Pennsylvania, USA her home.
Although she learned the basics of knitting and crocheting at the young age of 7, it wasn't until later that Natalia truly became hooked. Nowadays, knitting and crocheting has become such an integral part of her life that she calls herself an ambassador for wearable crochet. It is therefore unsurprising that you will find plenty of crocheted garments, bags and accessories on her blog! Natalia's patterns not only include written instructions, but also charts, diagrams, step-by-step photos and instructional videos. With patterns for all ages and experience levels, Natalia makes sure all can join in and become hooked!