YARN Bookazine 15 - Metamorphosis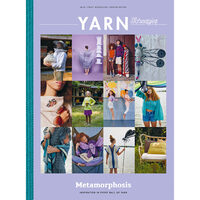 "During those long weeks of isolation, reflecting on the metamorphoses of the insects in our gardens, eventually we emerged as more conscious versions of ourselves – or so I like to believe." Simy Somer
In this issue, the theme of growth, change and awakening is represented through chapters inspired by insects that change form through the seasons. The 16 crochet and knitting patterns highlight how fibres and techniques can transform into a range of garments and accessories, such as airy tops and delicate shawls.
Playful homeware and toys offer bursts of colour to brighten the spaces where many of us felt 'cocooned' during lockdowns. Embroidery enhances many designs, bringing our attention to the details of nature. The theme is further reflected in artist interviews and informative features, including a glimpse of how Scheepjes is supporting biodiversity.
Availability
YARN Bookazine is published in English (UK) and Dutch and is available from Scheepjes retailers worldwide.
You can also have the bi-annual publication delivered directly to your door. YARN Bookazines are available for worldwide delivery, either individually or as a 2-year subscription. Please note that prices displayed on the link include postage and packaging.
For English issues:http://bit.ly/ScheepjesSubsEnglish
For Dutch issues:http://bit.ly/ScheepjesSubsNederlands