YARN Bookazine 13 - Wadden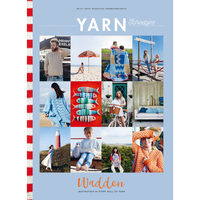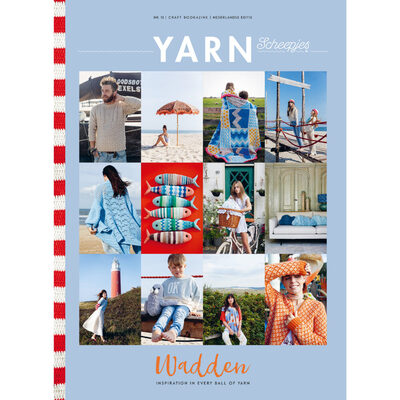 In this issue we share the joy and wonder of the unique environment of the Wadden, an area of sea, sandbars and around 50 islands that stretches across the coastlines of the Netherlands, Germany and Denmark. The Wadden Sea National Park was awarded UNESCO World Heritage status in 2009, and in our 13th issue of YARN Bookazine we explore its diverse habitats, enormous variety of wildlife and significance to the Dutch culture.
YARN Bookazine 13 Wadden features 17 modern crochet and knitting patterns inspired by the land, sea and animals of the region. The colour palette features bright shades reflecting the berries and lighthouses found scattered across the Dutch Wadden islands, with more neutral colours taken from the beaches, dunes, mudflats and waters to offer a soft contrast. Featuring a range of yarns and fibres, from crisp cottons to cosy pure wool, the projects are made in a selection of crochet and knitting techniques. An additional latch hook rug design completes the selection of patterns.

The lookbook is divided into four chapters, each named after an aspect of the Wadden: Landscape, Coastal Life, Holiday Time and Tides. The designs range from garments to toys and reflect the diverse flora and fauna that define the region, the drama and atmosphere of the landscape, and the pastimes shared by local residents and visitors to the area, such as cycling.

YARN Bookazine is published in English (UK) and Dutch.

Buy from your local yarn store!
YARN Bookazine is available from Scheepjes retailers.
Subscribe Now!
You can now subscribe to receive the latest copy of our bi-annual YARN Bookazine direct to your door! Subscribe for 2 years and receive 4 copies of YARN Bookazine in that time. Individual copies of all issues are also available topurchase via our subscriptions link.

For English issues: http://bit.ly/ScheepjesSubsEnglish
For Dutch issues: http://bit.ly/ScheepjesSubsNederlands
Please note that prices displayed on the subscriptions webpage include postage and packaging costs.