YARN Bookazine 12 - Romance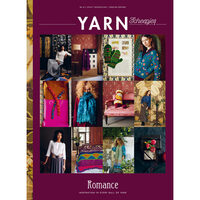 Indulge in the undying love for nature, the female form and minute details of the Romantic Era this Autumn by immersing yourself in the sublime 12th issue of YARN Bookazine that plays tribute to the artists and muses of the Pre-Raphaelite and Arts and Crafts movements of the 19th century.

YARN Bookazine 12 celebrates the joy of making with a collection of wearable and homeware designs influenced by the paintings, textiles and richly patterned decor of the time. Amongst the 11 crochet and 7 knitting patterns, expect to see exquisite lacework, rich colour work and updated interpretations of historical motifs, symbols and embellishments. Abundant detail fuses with modern functionality through a varied range of stitch techniques, fibres, colour palettes and surface embroidery.

Romanticism is reflected and explored throughout YARN Bookazine 12 that is divided into four captivating chapters, each named in honour of a renowned muse: Lizzie Siddal, Fanny Eaton, Annie Miller and Effie Gray. The themed lookbook is bursting with stunning crochet and knitting designs to suit all budgets and levels of crafting experience. Designs are interspersed with fascinating feature articles concerning the legacy of the art movements of the era, the intriguing life of Fanny Eaton and inspiring interviews with modern-day creativessuch as paper artist Pippa Dyrlaga and craftsman Hugh Dunford-Wood.
YARN Bookazine is published in English (UK) and Dutch.

Buy from your local yarn store!
YARN Bookazine is available from Scheepjes retailers.
Subscribe Now!
You can now subscribe to receive the latest copy of our bi-annual YARN Bookazine direct to your door! Subscribe for 2 years and receive 4 copies of YARN Bookazine in that time. Individual copies of all issues are also available topurchase via our subscriptions link.

For English issues: http://bit.ly/ScheepjesSubsEnglish
For Dutch issues: http://bit.ly/ScheepjesSubsNederlands
Please note that prices displayed on the subscriptions webpage include postage and packaging costs.