Reading List
Good day, Scientists!
It is time to begin preparing for your time in the lab!

It seems wise that over the following weeks, we equip you with the knowledge and know-how to best support your experiments.
Therefore, my team and I have compiled a concise list of books to aid you on your journey. This reading list will support your studies and guide your exploration through a world of science, investigation and colour theory!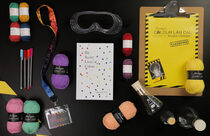 Top Science Books (unleash your inner geek!)
1. A Brief History of Time by Stephen Hawkin
2. Lessons in Chemistry by Bonnie Garmus
3. The Joy of Science by Jim Al-Khalili
4. Handmade: A Scientist's Search for Meaning through MakingbyAnna Ploszajski
5. Why is Snot Green?: And Other Extremely Important Questions (and Answers) from the Science Museum by Glenn Murphy
Top Colour Theory Books (goggles recommended)
1. The Secret Lives of Colour by Kassia St Clair
2. The World According to Colour by James Fox
3. The Secret Language of Color by Arielle and Joann Eckstut
4. Interaction of Color by Josef Albers
5. Werner's Nomenclature of Colours: Adapted to Zoology, Botany, Chemistry, Mineralogy, Anatomy, and the Arts by Patrick Syme
Why not brush up on your scientific understanding by reading one or more of the books listed here? Out of curiosity, do you already have a favourite science or colour theory book? If so, I'd love to add it to my reading list – let me know over on the Official Scheepjes Facebook group. After all, knowledge shared is knowledge gained!
Yours sincerely,