Experiments in Candy
Good day scientists!
I trust that your week has been a good one and that preparations for your experiments are well underway!
Today I thought I'd share one of my favourite colour experiments with you all. A chance to see colour in action, whilst having the odd treat along the way!
For today's experiments in colour, you're going to need the following;
A packet of Skittles (or an equivalent candy; M&Ms, Smarties, etc.)
A white plate
Hot water (straight from the kettle - Careful as it's hot!)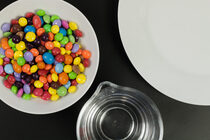 Start by separating the sweets by colour, place an assortment on the plate, and add a little hot water. Watch in wonder as the dye starts to run. Look at those gorgeous shades!


Primary Colours
Now let's focus on the primary colours; Red, blue and Yellow.
Place them on the plate and again add some hot water. What do you notice?
With some encouragement, the shades bleed into one another and create secondary colours: Green, Purple and Orange.
Secondary colours

Candy Colour Wheel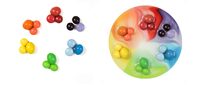 Play around with different combinations of colours and see what colours make new shades when their dyes mix.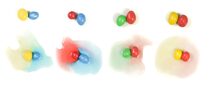 Not to mention the combination of gorgeous patterns that are created when the water flows naturally with the colouring from the sweets!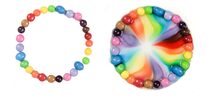 Isn't that marvellous!
I'd love to see what you got up to with your experiments;
Why not share some of your goings-on over on Instagram by tagging us in your pictures of your colour experiments in the LAB!
Tag us with:
#scheepjescolourplay
and don't forget to enjoy the tasty treats once you're done experimenting!!!
Until next time!