Pretty Little Things 27 - Crochet Wildflower Bouquet
By Sarah-Jane Hicks
Sarah-Jane Hicks has designed the gorgeous Crochet Wildflower Bouquet, a gift that will last a lifetime and is guaranteed not to set off sneezes! This floral work of art is made using amigurumi techniques and constructed around florists wire so that the stems and heads are moveable and can be rearranged to your heart's content. The delicate flowers are made with laceweight Maxi Sweet Treat and the pattern is also suitable for making bigger blooms using cotton yarn from our Catona and Cahlista collections.
Materials
Scheepjes Maxi Sweet Treat (100% Mercerised Cotton; 25g/140m)
Yarn A: 208 Yellow Gold x 1 ball
Yarn B: 383 Ginger Gold x 1 ball
Yarn C: 408 Old Rose x 1 ball
Yarn D: 412 Forest Green x 1 ball
Alternative Colourway based on Crafty Celebrations Colour Pack Floral
Yarn A: 392 Lime Juice x 1 ball
Yarn B: 154 Gold x 1 ball
Yarn C: 519 Freesia x 1 ball
Yarn D: 606 Grass Green x 1 ball

1.25mm crochet hookStitch markers
Small amount of polyester toy stuffing
10 x 20cm length florist wire
Textile glue
1.5cm wide paper tape
This pattern appears in Pretty Little Things 27 – Floral Home, published by Scheepjes. The Pretty Little Things booklet is available in print in both UK English and Dutch language via Scheepjes retailers. It is also available as an eBook via Ravelry.
Our monthly publication Pretty Little Things (Klein Maar Fijn) showcases 3 multicraftual patterns made with Scheepjes yarns. Colourful projects that are beginner-friendly, affordable, and appealing to all crafters thanks to the adorable aesthetic. Who doesn't love a pretty 'weekend' project?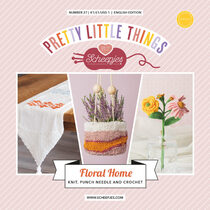 Other patterns by Sarah-Jane Hicks