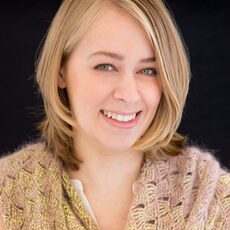 New Leaf Designs
Hi there! My name is Carmen Jorissen and I'm the designer behind New Leaf Designs (formerly Crafty Queens). I live in the Netherlands with my boyfriend and our cat in a quaint little house from the sixties, with a sun-filled craft studio where I spend my days creating new designs, surrounded by all of my yarns.
Knitting and crocheting are two things that fill my life with so much joy. I started both as a hobby in 2011, and it all kind of snowballed from there! They have brought me so many opportunities, and the most lovely group of friends I could ever wish for.
In 2019 I achieved one of my dreams: becoming a fulltime knitwear and crochet designer! I am loving every minute, even though it comes with its own set of challenges. You are very welcome to join me on my journey. You can do so by reading my blogs or catching up with me in one of my podcast episodes.
Patterns
Patterns by New Leaf Designs