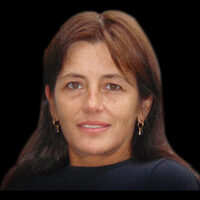 Astrid Schandy
Astrid first picked up a hook in 2016 and discovered interlocking crochet a couple of years later. She found the technique so addictive that she has used it exclusively ever since. A lack of available patterns led to her creating her own designs and before long her first blanket pattern was introduced to a Facebook CAL, where she impressed as a guest designer.
Astrid is a busy single mom of three, working a full-time job alongside designing. Being a closet mathematician, she is fascinated by algorithms, fractals and geometry, which feature heavily in her designs. Without using any software, each pattern is extensively worked out until every detail is perfected, before even touching the hook and yarn. It is a process that takes months, and results in a very special relationship between designer and pattern. When Astrid publishes, she feels bereft, as if a bird has flown the nest. The delight of seeing her patterns created by others soon replaces that feeling though.
Her cherished birds are brightening many other nests!
Patterns
Patterns by Astrid Schandy