YARN Bookazine 4 - Dutch Masters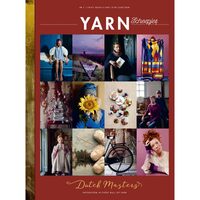 "The Netherlands has been home to many creative hands. This homeland to Scheepjes HQ has produced, and still continues to produce, world-renowned artists and designers. In this issue, we celebrate the Dutch Masters of art, taking inspiration from paintings by Rembrandt, Van Gogh, Vermeer and Mondrian."
Our quintessentially Dutch issue of YARN Bookazine showcases knitted and crocheted garments and accessories inspired by the four aforementioned artists which are so central to Dutch history and culture. With patterns like the Dutch Tulips, the Windmill Shawl and the Bicycle Dress, you'll really feel as though you've just stepped off the plane in the Netherlands!
YARN Bookazine is published in English (UK) and Dutch.
Buy from your local yarn store!
YARN Bookazine is also available from Scheepjes retailers.

Subscribe Now!
You can now subscribe to receive the latest copy of our bi-annual YARN Bookazine direct to your door! Subscribe for 2 years and receive 4 copies of YARN Bookazine in that time. Individual copies of all issues are also available to purchase via our subscriptions link.
For English issues: http://bit.ly/ScheepjesSubsEnglish
For Dutch issues: http://bit.ly/ScheepjesSubsNederlands
Please note that prices displayed on the subscriptions webpage include postage and packaging costs.