Pretty Little Things 39 - Out and About!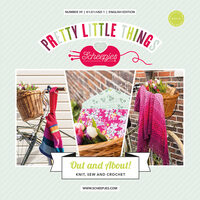 Beautiful, vibrant accessories are the finishing touches that instantly rejuvenate a wardrobe for those on the go. Lovingly handcrafted and featured in uplifting shades, the three projects in Scheepjes Pretty Little Things 39 – Out and About are not only a pleasure to craft, they're also fun and functional. Let's add a little extra exuberance and joy to those mundane commutes and everyday errands! With a bold floral print, Duncan Carter's Envelope Clutch is pretty and practical, and Helda Panagary's Crochet Bobble Scarf is perfect to throw on in unpredictable weather. To top it all off, Irene Israel's Knitted Loop Bag - a tote with a twist - is great for carrying groceries home from the market!
The three projects in this issue are crafted with Scheepjes Softfun, Scheepjes Whirl and Whirlette and Tissu de Marie fabric.