| | |
| --- | --- |
| Category | Pretty Little Things 37 - Story Time, Scheepjes Publications |
| Type | Bookmarks |
| Technique | other |
| Languages | |
Sheep Page Corner Bookmarks
By Liz Barraclough
Crafters it seems, are often booklovers too! To appeal to both, Liz Barraclough has come up with a set of three Sheep Corner Page Bookmarks, each with their own distinct personality. Cut from felt and embroidered with stranded cotton, they simply slide over the corner of the page to keep your spot. They're inexpensive and fun to make and you're not limited to Munching Sheep, Office Sheep and Chilly Sheep.
Materials
Materials given make all three bookmarks
Queen's Quality felt (100% Polyester; 2mm thick)
001 (white) x 2 sheets
012 (golden brown) x 1 sheet
047 (light pink) x 1 sheet
003 (orange) x 1 sheet
052 (blue) x 1 sheet
019 (green) x 1 sheet
DMC Stranded Cotton embroidery thread (100% Cotton; 8m per skein)
BLANC (white) x 1 skein
0310 (black) x 1 skein
3828 (golden brown) x 1 skein
0950 (light pink) x 1 skein
0699 (green) x 1 skein
0947 (orange) x 1 skein
3854 (light orange) x 1 skein
0518 (blue) x 1 skein
90 x 40cm Vlieseline F220 fusible interlining
Red pencil
5 x 5cm piece tissue paper
Basic sewing kit
Pattern
This pattern appears in Pretty Little Things 37 – Story Time, published by Scheepjes. The Pretty Little Things booklet is available in print in both UK English and Dutch language via Scheepjes retailers. It is also available as an eBook via Ravelry.
Our monthly publication Pretty Little Things (Klein Maar Fijn) showcases 3 multicraftual patterns made with Scheepjes yarns. Colourful projects that are beginner-friendly, affordable, and appealing to all crafters thanks to the adorable aesthetic. Who doesn't love a pretty 'weekend' project?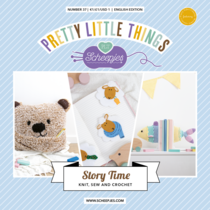 Other patterns by Liz Barraclough