Scheepjes Studio Pack Catona
| | | |
| --- | --- | --- |
| | Color code: | Unknown |
Presenting the Scheepjes Studio Pack featuring Scheepjes Catona: a must-have kit for all creatives! Whether you prefer to get crafty at the dining table or laid back on the couch, the Scheepjes Studio Pack has you covered.
Each Studio Pack contains two magnetic boards which make the perfect backdrop for putting together the mood board for an upcoming project! Easily sit them on your lap or table, or hang from a wall. To attach colour/yarn samples or other bits and pieces like paper cut-outs, sketches and samples to your board, simply use the included magnetic clips or stick a piece of the magnetic tape to the back! This allows you to quickly and easily play around with colours, designs and inspiration as you go. For any extras that don't quite make it onto your board, you can store these in the handy Scheepjes storage tin. With all Scheepjes Studio Packs receive a complete Scheepjes Catona Colour Pack, overflowing with all 109 colours from the Catona yarn range in Cutie Pie 10-gram balls!

Each Studio Pack is supplied in a stylish wrap box, making it an absolute delight to unpack!

The Scheepjes Studio Pack contains:
2 x Magnetic Boards (large and small)
Scheepjes Catona Colour Card Strips
Magnetic Tape
10 x Magnetic Clips
1 x Scheepjes Storage Tin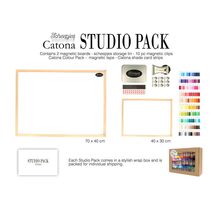 Go back go accessoire overview