Pullover made of Stone Washed XL
By Scheepjes
Materials: Scheepjes Stone Washed XL purple (851) 15–16–16 balls, size 5 crochet hook.
Gauge: 15 sts and 8 rows in Pattern st A = 10x10 cm. Take time to check gauge and switch hook if necessary.
Stitches: Crochet chain, Single crochet, Double crochet, Triple crochet.
Pattern stitch A: Work following stitch marked A in chart. After the edge sts always repeat the 3 sts in width and the 1st and 2nd row in height. Work the center part by crocheting over the center 15 sts. Work rows 1 through 11 one time, then repeat rows 2 through 11.
o = Crochet chain, I = Single crochet, † = Double crochet, I with two horizontal lines = Triple crochet.
Decreases for neck, armholes and sleeve cap shaping: at the beginning of the row: chain 3 or 4 sts, skip the first cluster of 3 Double crochet and continue to work in pattern. At the end of the row: leave the last 3 sts before the edge st unworked, then work the edge sts.
Directions:
Back: Chain 67–73–79 sts and work 3 rows Double crochet, replacing each 1st Double crochet in each row with 3 chain sts. Continue to work in Pattern st A. Armholes: when work measures 44–43–42 cm (35–34–33 rows), decrease 2 times 3 sts at both edges, each row. Neckline: when work measures 62,5 cm (= 50 rows) leave the center 30 sts unworked and at either edge work 1 row Pattern st over the rem sts. Fasten off.
Front: Chain 67–73–79 sts and work 3 rows Double crochet. Now set up stitch pattern as follows: 26–29–32 sts in Pattern st A, 15 sts for center part, 26–29–32 sts in Pattern st A. Continue in this stitch distribution until work measures 44 cm, = 34 rows. The last row is an 11th row. Neckline: divide work and finish each half separately in Pattern st A. Neckline decrease: beside the center Double cochet cluster, work 10 times a half cluster less, every row = 5 clusters in width for each half front.
Armholes: Decrease same as back. Work to the same height as back and fasten off.
Sleeves: Chain 46 sts and work 46 Double crochet, then continue in Pattern st. Alternately decrease 3 times 1 st at both edges, every 3 rows and 2 times 1 st, every row. Sleeve width: increase 8–9–11 times 1 st at both edges, every 3–3–2 rows. When sleeve measures 14 cm and from now on work the center part of chart over the center 15 sts. Sleeve cap: when work measures 46 cm decrease 6 times a half Double crochet cluster, at both edges every row. Fasten off.
Finishing: Sew shoulder seams. Work 1 row Double crochet along neck edge, checking height and width of neck. Sew in sleeves, placing center of sleeve to shoulder seam. Sew side and underarm seams.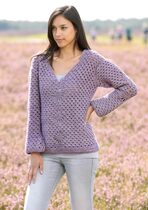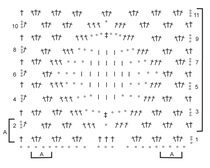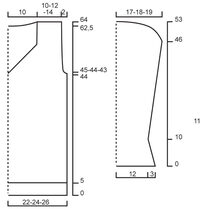 Other patterns by Scheepjes