Pullover made of Stone Washed XL
By Scheepjes
Materials: Scheepjes Stone Washed lime green (852) 10–11–11 balls, size 5 straight and doublepointed knitting needles.
Gauge: 14 sts and 20 rows in Pattern st = 10 x 10 cm. Take time to check gauge and switch needles if necessary.
Stitches:
2x2 Ribbing: alternately K2 and P2.
Pattern st: 1st row (right side): K1, * K1 wrapping yarn around needle 2 times, repeat from *, finish with K1. 2nd row: knit, dropping the extra YO. 3rd and 4th row: knit. Repeat these 4 rows.
Directions:
Back: Cast on 62–66–74 sts and work 10 cm in 2x2 Ribbing, in the last wrong side row evenly increasing to obtain 72–78–84 sts. Continue to work in Pattern st. Neckline shaping: when work measures 60 cm bind off the center 18 sts and finish each half separately. At neck edge continue to bind off 8 sts in the 2nd row. Shoulders: when work measures 62 cm bind off the rem 19–22–25 sts.
Front: Work same as back until work measures 46 cm. Now shape V–neck by dividing work and finishing each half separately. On right side, decrease at neck edge 14 times 1 st, every 2 rows. Decrease as follows: before the neck: work to the last 3 sts, K2 tog, 1 edge st. After the neck: 1 edge st, K2 tog through back loop. On wrong side evenly decrease over the height of neck, 3 times 1 st at neck edge by knitting 2 sts together before the edge st. Shoulders: bind off the rem 19–22–25 sts at the same length as back.
Sleeves: Cast on 30–30–34 sts and work 6 cm in 2x2 Ribbing. Continue to work in Pattern st and for sleeve width increase 11–12–12 times 1 st at both edges, every 6 rows, = 52–54–58 sts. When work measures 44 cm, bind off all sts loosely.
Finishing: Sew shoulder seams. Using double–pointed needles, pick up 103 sts around neck edge and work in 2x2 Ribbing in the round, distributing sts in such a way that at center front you have 1 knit stitch at the point of the V–shape, with 2 knit sts or 2 purl sts at either edge. Decrease as follows in each following row: work to 2 sts before the center front st, slip 1 st, work 1 st and PSSO, K1, work 2 sts tog. After finishing 5 rows, bind off in 2x2 Ribbing. Placing shoulder seam in sleeve center, sew in sleeves over a width of 36–38–40 cm. Sew side and underarm seams.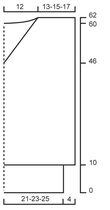 Other patterns by Scheepjes