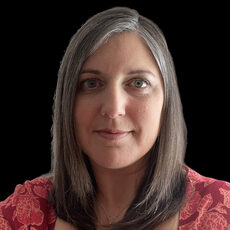 Liz Judge
Hi, I'm Liz and I live in the Southeast of England, about 17 miles outside of London, with my husband, 3 children and a selection of pets.
I mostly learnt to craft back when I was a child; my grandma taught me to knit when I was about 8 years old, my nan taught me to cross stitch a year or two later and my mum taught me to crochet. One of my most distinct memories from my childhood is my grandma taking my sister and I to the market when we stayed with her and buying us yarn and sweets from the stalls. Throughout my teenage years I fell away from everything except cross stitch but when I was pregnant with my eldest child I decided to pick firstly knitting, and then crochet, back up again. Crochet was probably the one that I'd forgotten the most about and had to teach myself again.
And I pottered on like that until early 2020 when a chance encounter on a train journey introduced me to the world of CALs. Later that year I found Scheepjes and I fell in love with everything about the brand, my crochet skills have developed so much over the last couple of years and it's now my first love when it comes to crafting. My daughter has recently expressed an interest in learning to crochet and I'm delighted to be able to start teaching her something I love so much.
I feel truly honoured to be a moderator in the Facebook groups for Scheepjes, it's such a wonderful community of crafters and I love helping members with their struggles and celebrating their successes with them. I'm even learning Dutch (although not very quickly) so I can help out in the Dutch group more easily. I love being part of the Scheepjes family and wouldn't swap it for the world.