Errata YARN 12 - Beatrix Blanket
Unfortunately, there is an error in the printed version of the Beatrix blanket pattern published in YARN Bookazine 12 - Romance.
INSTRUCTIONS
Blanket
(…)
Depending on which Whirl colours you choose, you may reach a point where both the background and pattern Whirl are the same colour. You can solve this by removing 1-3 sections of colour from your whirl used for the background.

Rows 42 -121 Repeat row 2-41 twice more.
Rows 122-156 Rep Rows 2-36 once more.
Row 157 With Yarn A and carrying……..
Stitch Chart 1: Damask Motif
The numbering of the even numbered rows from Row 10 on left side of chart need shifting down one row, so indicated Row 10 should be Row 11 et cetera. Indicated odd numberd rows on right side are correct.
Chart contains an error on Row 41 and 42, see corrected chart (row numbers have already been corrected).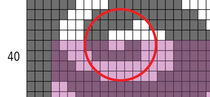 Edging
The instructions for Round 1 have been changed and stitch counts for Rounds 1 - 3 have been updated.
Please note: The stitch chart for Round 1 of the edging does not include the decreases, all other rounds match written instructions.
Round 1 (RS) Ch1 (does not count as st), dc in same st as join and in next 68 tr, dc2tog over next 2 tr, (70dc, dc2tog over next 2 tr) twice, 69dc, (1dc, ch2, 1dc) in final st (corner made), work 313dc evenly along first long side(work sts in row ends), (1dc, ch2, 1dc) in next corner, work 69dc, dc2tog, (70dc, dc2tog)twice, 69dc, (1dc, ch2, 1dc) in corner, 313dc along next long side, (1dc, ch2, 1dc) in next corner, ss to first dc to join. [283 dc along short sides, 315 dc along long sides, 4 ch-2 sps]
Round 2 sts
[143 tr on short sides, 159 tr on long sides, 4 ch-3 sps]
Round 3 sts
[145 tr on short sides, 161 tr on long sides, (ch1, 1tr, ch1) in 4 corners]