| | |
| --- | --- |
| Categorie | Scheepjes publicaties, Interieur, Esme Crick, YARN - The After Party |
| Aanbevolen garen | Catona 50 gram |
| Type | Kussen |
| Techniek | haken |
| Maten | 45 x 45 cm |
| Talen | |
YARN - The After Party 46 Electric Dream Cushion
By Esme Crick
De in het oog springende afsluiter in de kussenserie van Esme Crick is de Electric Dreams Cushion. Een modern en toch tijdloos ontwerp dankzij de geometrische vormen. Net als de Busy Bees en de Swifts Cushion is dit ontwerp ook gemaakt met de mozaïek haaktechniek, waardoor de oranje motieven extra contrasteren met de champagnekleurige achtergrond.
Benodigdheden
Scheepjes Catona (100% Gemerceriseerd Katoen; 50 gr/125 m)
Kleur A: 248 Champagne x 5 bollen
Kleur B: 390 Poppy Rose x 2 bollen
Haaknaald 3,5 mm
Binnen kussen 45 x 45 cm
Maasnaald
Centimeterband
Het patroon van de Electric Dreams Cushion, ontworpen door Esme Crick, staat centraal in YARN - The After Party 46. Deze YARN - The After Party is verkrijgbaar in het Nederlands, Duits, Zweeds en Engels (UK terminologie) via Scheepjes verkooppunten. Daarnaast is het patroon verkrijgbaar als digitale download via Ravelry in deze talen én in het Engels (US terminologie), Frans en Spaans.
Over de ontwerpster
Esme Crick van Redsparrowcrochet is de ontwerpster van deze prachtige kussenserie. Eerder droeg ze met haar prachtige ontwerpen al bij aan diverse YARN bookazines.
Naast het Electric Dream Cushion (rechts) zijn ook het Busy Bees Cushion (links, YARN The After Party 44) en Swifts Cushion (links, YARN The After Party 45) als After Party verkrijgbaar.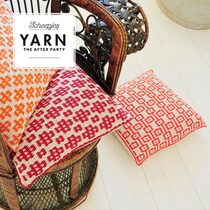 Andere patronen door Esme Crick
Soortgelijke patronen