Submenu
Scheepjes Make-A-Long

Scheepjes KALs

Scheepjes CALs

Scheepjes CAL 2020 - d'Histoire Naturelle

Scheepjes CAL 2019 - Rozeta

Scheepjes CAL 2018 - Ubuntu

Scheepjes CAL 2017 - Hygge

Scheepjes CAL 2016 - Last Dance on the Beach

Scheepjes CAL 2015 - Flight of Fancy

Scheepjes CAL 2014

CALs en MALs gesponsord door Scheepjes

Projects & Kits
The Read-With-Me CAL 2018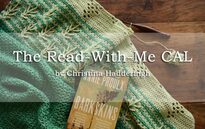 Houd jij van lezen én haken? Dan heeft Scheepjes Blogger Christina van A Spoonful of Yarn superleuk nieuws voor je! Ze gaat namelijk haar eerste Read-With-Me-CAL starten! Tijdens deze CAL ga je samen de History of Trees shawl haken, geïnspireerd op het boek 'Schorshuiden' van Annie Proulx.
De prachtige History of Trees Shawl wordt gehaakt met Scheepjes Stone Washed, maar kun je ook prima haken met Scheepjes River Washed. De shawl bestaat uit drie delen, ook wel 'hoofdstukken', met elk een andere techniek. De CAL start 13 augustus.
Meer informatie over deze CAL is te vinden op de blog van Christina: A Spoonful of Yarn.