Submenu
Scheepjes Make-A-Long

Christmas Tangle Blanket MAL

Scheepjes KALs

Scheepjes CALs

Scheepjes CAL 2020 - d'Histoire Naturelle

Scheepjes CAL 2019 - Rozeta

Scheepjes CAL 2018 - Ubuntu

Scheepjes CAL 2017 - Hygge

Scheepjes CAL 2016 - Last Dance on the Beach

Scheepjes CAL 2015 - Flight of Fancy

Scheepjes CAL 2014

CALs en MALs gesponsord door Scheepjes

Projects & Kits
Stitch Story CAL 2018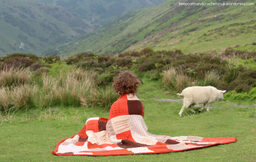 Neem deel aan de Stitch Story CAL en maak je eigen verhaal! De Stitch Story Crochet Along is ontworpen door Heather van Keep Calm and Crochet On UK en gaat op 4 juli van start. Gedurende een periode van 26 weken wordt er een prachtige deken gemaakt. De patronen zijn beschikbaar in Engels en Nederlands, bovendien maakt Esther van It's all in a Nutshell de videotutorials.
Bijzonder aan deze CAL is dat de patronen niet wekelijks maar elke twee weken online komen. Bovendien kan je zelf kiezen hoe groot je deken wordt en welk garen je gebruikt. Je kunt kiezen uit Scheepjes Sotftun Denim of Scheepjes Colour Crafter, Esther maakte haar deken in Scheepjes River Washed.
De mogelijkheden zijn eindeloos en met de ondersteuning van Esther's rustgevende stem wordt dit een prachtige CAL!
Meer informatie over deze CAL is te vinden op de blog van Heather.